Spring Sports Review: Track & Field, Boys Tennis, Boys Soccer, Girls Golf, Softball
This story is volume two of two recapping Park City's various spring sports seasons. Read the first volume here.
Track & Field
The Utah Track & Field State Championships took place at Brigham Young University on May 19 and 21. The Miners found success with one first place finish, two second place finishes, and one third place finish. The Boys 4x100m team took home gold, senior Jesse Helton won silver in Discus, the Girls 4x400m relay team won second, and junior Carson Baynes walked away with bronze in the Boys 200m dash.
Park City boasted 25 individual athletes who qualified for the state championship across 19 different events. The athletes who qualified needed to secure a top-four placing in the Region 6 meet held on May 11 and 12. In that meet, the Boys secured a Region 6 title, and Park City finished 3rd overall as a school.
Additionally, seven Miners teams and individuals placed first in their events at the Region meet. Junior Matthew DeMarco won the Long Jump event with a jump of 20 feet and 11.5 inches, sophomore Duke Gordon won High Jump with a jump of 6 feet, senior Jesse Helton won first in both Shot Put and Discus, and the Boys 4×200 and 4×800 as well as the Girls 4×200 beat out all other Region 6 opponents. Moreover, the Boys swept discus, with senior Luke McCurdy winning second place behind Helton and junior Mason Grover securing third.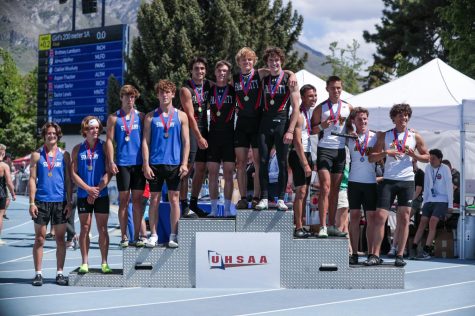 Seven new school records were set in 2022; three were set by boys and four by girls. The Boys 4x100m relay team (pictured) set a record-setting time of 43.07 seconds, and Helton set new school records in Shot Put and Discus. On the girls side, sophomore Morgan Cater earned a school record with a 100m time of 12.48 seconds, and the 4x100m, 4x200m, and 4x400m relays all set new records. The 4x100m and 4x200m relay team was made up of Carter, senior Ellie Christensen, and juniors Cate Defa and Alex Katz. Carter, Christensen, and sophomores Leah Yaeger and Kaylee Hale ran made up the school-record-setting 4x400m relay team.
Boys Tennis
On Tuesday May 10 and Thursday May 19, the Park City Boys Tennis team played in the Utah Class 5A state tournament at Liberty Park, in Salt Lake City. The tournament was set to continue with the later rounds on May 20, however no Miner individual or pair made it past the second round, meaning their tournament was cut short.
The Miners totaled three points at the state tournament, thanks to first round wins by junior Coen Woolley, junior Kaj Christensen, and the doubles team of juniors Jake Farnell and Felix Schlegel. All three teams were eliminated in the following round.
The Miners finished fourth of seven teams in their Region tournament, played on May 4 and 5 in Murray. Park City's highest finishers included Woolley, third place in singles; Farnell & Schlegel, third place in doubles; and the doubles team of junior Henry Retzer and freshman Justus Zaino earned fourth place.
The Miners finished above Murray, Olympus, and East in the Region tournament, but finished behind Brighton, Skyline, and Highland, who took first, second, and third respectively.
During the regular season, Park City finished with an overall record of 2-5 and a region record of 2-4. Major highlights of their season came with 5-0 sweeps over both East (April 7) and Murray (May 2).
Fortunately, Park City has zero graduating seniors and will benefit from six varsity juniors who will return as seniors in 2023. With this retention of talent, Park City will look to have a more successful spring season with veteran seniors returning with more experience.
Boys Soccer
The Miners Boys Soccer team finished their regular season with a 7-7 record. That proved good enough to earn them the 15-seed, as well as an opportunity to host a playoff game in the first round of the 2022 5A Utah State Playoffs against the 18-seeded Bountiful Lakers. However, the Miners conceded a first-half goal to Bonneville senior Aidan Iverson, and the Lakers managed to cling to that slim 1-0 lead and shutout the Miners in the second half, advancing to round two and ending Park City's season.
The Miners' 2022 season was a rather unremarkable one, one that saw the Miners finish in fifth place in their region despite a +2 goal differential on the year. The difference for twelve of their fifteen games was just a single goal (or a decision by shootout). While they finished the regular season with a .500 record of 7-7, they went 5-7 in 5A Region 6 play, suffering losses to every region opponent except for Highland (including two losses to Brighton and Olympus). This 5-7 record landed them all the way in fifth place in their region, yet they were still ranked eleventh of all 33 5A programs by maxpreps.com as of May 12. 
Despite the losing record of 7-8 on the season, the Miners had some bright spots on the year, including some big wins over Real Salt Lake Academy and Murray. On March 9, the Miners hosted RSL Academy, and after a scoreless first half, were able to take a 1-0 lead thanks to a goal from junior midfielder Evan Tsandes. The Miners held on to that lead and secured the 1-0 victory over the RSL academy, who would go on to finish with a record of 14-3 on the season and eventually lost in the finals of the 3A State Championships to Layton Christian Academy.
Additionally, on April 8, Park City was able to take down Region 6's Champion, the Murray Spartans in a double overtime showdown. A close first half saw both the Miners and the Spartans notch goals of their own, knotting the score at 1-1 at halftime. A scoreless second half led to overtime, which, after ten minutes of scoreless play, led to a second overtime. Finally, the Miners broke the tie in the second overtime, winning the game 2-1. 
Murray went on to finish the regular season 13-3, earning first place in 5A Region 6, and a 4-seed in the state playoffs. 
Park City will open their 2023 campaign in the spring looking for their first winning record since they were moved into 5A prior to the 2020 season. 
Girls Golf
Park City Girls Golf finished sixth at the 5A Utah High School State Championship, played at River Oaks on May 9 and 10. Park City finished with 787 total points (four best scores on each of the two days), good enough for sixth place in the conference.
Park City finished third in their region, trailing Olympus and Skyline, who finished third and fourth respectively at the 5A Championship. This year marks back-to-back sixth place 5A finishes, as Park City finished in the same spot in 2021.
The Miners' best individual performances were produced by juniors Erin Bratcher and Sierra Scanlan. Bratcher scored a 93 on Day 1, and Scanlan notched the same score the following day. Scanlan totaled the fewest points of all Miners, with 190 combined from both days. Scanlan, Bratcher, senior Emily Hawksworth, and sophomore Abby Francis rounded out Park City's four lowest scorers.
Hawksworth is Park City's lone graduating senior, leaving the Miners relatively unaltered leading into the Spring 2023 season. The Girls Golf team is still searching for their first state title in over a decade, in spite of a string of five consecutive second place finishes from 2015-2019.
Softball
The Miners softball team lost their playoff game on May 13 to the Tooele Buffaloes by a score of 16-1. This put an end to a rather brutal season for the Miners, who finished the year with a record of 4-11, placing them second to last in their region. Park City concluded their season ranked 30 of 33 5A softball teams, which was a five-spot slide from their placement following the 2021 season (although only 29 teams played in 5A last year). 
The Miners finished with a run differential of -88, scoring 92 runs but allowing 180. 63% (58 of 92) of their runs were scored in only three games, all wins. Two wins against region rival Highland, one against Brighton, and a 23-1 throttling of non-region opponent Provo highlighted the disheartening season. 
Park City finished with a 1-6 record while playing at home, with their lone win coming on May 5 against Highland, who finished with an 0-12 region record. On the road, though, the Miners were 3-6.
Five softball seniors are leaving the team and graduating: Max Kushner, Brielle Simpson, Hannah Smoak, Emylee Palominos, and Amber Howard.
In the 2023 season, the Miners softball program will seek out their first winning record in over a decade.