Spring Sports Review: Boys & Girls Lacrosse, Baseball, Boys & Girls Water Polo
This story is volume one of two recapping Park City's various spring sports seasons. Read the second volume here.
Boys Lacrosse
As the only team to take home a state championship, Boys Lacrosse had objectively the most successful Park City spring season. Although they didn't have the best record (15-5 on the season), they were able to win when it mattered. 
The Miners closed the regular season with an 11-5 record (4-1 in region play), which slotted them second in their region as well as second in all of 5A (behind Olympus). Park City earned a first round bye, then were matched up against 18-seed Box Elder. Park City cruised to a 19-3 victory, then kept their momentum rolling with a 19-7 home win over region rival Brighton. In the semifinals, Park City faced off against 3-seeded Bountiful at Westminster College. Bountiful entered with a 16-2 record on the season, but Park City handled them well, winning 20-3. This propelled the Miners to play Olympus for the state title.
On May 4, Olympus barely bested Park City, winning narrowly by a score of 14-12. The Miner confidence never wavered come May 27, and Park City won 10-9 in epic comeback fashion, taking home the 5A Utah State title.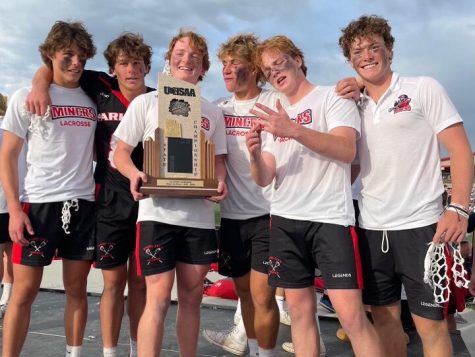 At the end of the season, maxpreps.com ranked the Miners 4th in the state of Utah and 168th in the entire United States. In 2021, Park City lost the state championship to Corner Canyon High (who now competes in 6A).
The PC Lax Boys graduating seniors are John Tiranno, John Trahan, Jude Trahan, Andrew Hunt, Hunter Currie, Keller Hopkins, TJ Griswold, and Charley Mehney.
Girls Lacrosse
The Park City Girls Lacrosse team exhibited their dominance night in and night out in the regular season, finishing 14-0 with an undefeated 6-0 region record. As the top seed in the 5A playoffs, they demolished their first three opponents (Springville, Woods Cross, Wasatch) by a combined score of 63 to 2. This led them to the State Championship Game, played on May 26 against Olympus at Zions Bank Stadium. After a very tight game, Olympus came out on top, defeating the perennial powerhouse and winning the 5A state title with a 10-9 victory over the Miners.
This comes as a crushing defeat for a girls program whose last loss was in the 2019 state title game against Herriman, 1,469 days prior to their loss against Olympus. Moreover, Park City defeated Olympus at home on May 4, 11-6. That game was played as Park City's senior night. 
Park City's sustained regular season success landed them 31st on maxpreps.com's national girls lacrosse ranking, and 1st in all of Utah. Prior to the championship loss, the Miners were outscoring their opponents at a historic rate, tallying 322 goals scored to 39 goals allowed.
For reference, maxpreps.com's #1 ranked team nationally (Lake Highland Prep in Orlando, FL) has a goal differential of 296 goals scored to 113 goals allowed in the same 20-game season.
PCHS will lose seniors Coco Gonzalez, Nikki Bott, Kathleen Whitely, Kelly Siegal, Ella Jenson, and Samantha Riely next year. Riely has committed to play D1 Lacrosse at UC Davis.
Regardless, seven of Park City's top eight goal-scorers will not be lost due to graduation, which bodes well for the Miners' continued success and possible redemption tour in 2023.
Baseball
The Miners' season prematurely ended at the hands of the 18-seeded Salem Hills Skyhawks on May 20. 6-seed Park City was matched up with the 18-seed Salem Hills for a best-of-three series in the Super Regionals section of the 5A Utah State Playoffs. 
In Game 1 on May 19, the Skyhawks bested the Miners at home 8 to 5. The Game 1 loss put Park City in a spot where they needed to win back to back games to survive and advance. With their backs against the wall, the Miners crumbled in Game 2, and were upset once again by the Skyhawks. Salem Hills jumped out to a 10-0 lead in the first two innings and didn't relent, completing the blowout of Park City, winning 18-1 on May 20. 
In the regular season, the Miners finished 17-8, with a 12-7 record in region play. That proved to be good enough to earn them second place behind Olympus in a tight and compétitive region. The Miners had a hot start to the season, starting out 11-2, winning 5 of 7 non-region games and following it up with back to back 3-game sweeps of Highland and Brighton.
Series losses to both Olympus and Murray damaged the Miners' record, but Park City was able to win series against both East and Skyline along with the sweeps of Highland and Brighton, totaling a 4-2 series record against region opponents.
The Miners landed a favorable 6-seed in the 5A playoffs, granting them byes for the First Round as well as the Regionals Round. 
Park City will lose only four graduating seniors: Wes Kirk, Christopher Maulding, Chance Baganz, and Winter Sports School senior Jake Rodgers.
Next season, the Miners will seek out their first region championship since the 2017 season, a goal that will be well in reach with their strong junior class.
Girls Water Polo 
The Park City Girls Water Polo team finished in second place in the Gold Division, losing to Kearns High in the championship game. The Miners played the championship game on May 21 at Olympus High, losing 7-4. 
The day prior, the Miners beat the same Kearns team in an overtime shootout after ending regulation tied at 6-6. However, because that the state playoff tournament is double elimination, Kearns was able to win one more game on the morning of the 21st and make it to the championship to face off once again against Park City. For the second time in two days, Park City and Kearns battled, but this time, they played for the championship. Kearns came out on top.
Despite the loss, the Utah Gold Division MVP was awarded to Miners' senior goalie Eva Stein. Along with her, junior Calla Troxel was selected to All-State First Team, and senior Sofia Bernasconi, junior Savanna Flynn, and sophomores Nina Zipnick and Nina Bastick earned All-State Second Team honors.
This past fall season, Park City managed to defeat Kearns to win the state championship. Furthermore, the girls won state last spring, in May 2021, defeating Kearns once again. 
Eva Stein, Sofia Bernasconi, Casey Roberts, Ella Klinsky, Kat Moss, and Cassidy Bryan make up the water polo seniors. Stein will go on to play D1 Water Polo for the University of Hawaii.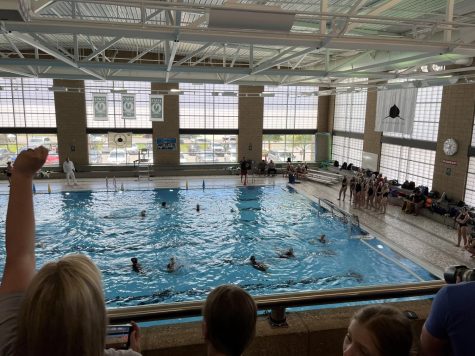 Boys Water Polo
The Miners Boys Water Polo team finished third in the Utah Gold division, beating Olympus in the third place game on May 21. Skyline ended up beating Kearns for first place in the Gold Division.
Earlier in the tournament, the Miners found success, beating Skyline in a thrilling shootout on May 19. The following day, Park City lost a tight game to Kearns for a chance to play for the championship. Park City was then bumped to the third place game, where they took care of Olympus for bronze. Skyline would end up beating Kearns for first place.
Senior Nick Obradovich and sophomore Carson Horton earned First Team All-State honors. In addition, senior Jackson Bryson, junior Indigo Paine, and freshman Drew Horton were all nominated to the All-State Second Team.
The team's graduating seniors are Stuyvie Bastick, Jackson Bryson, Nick Obradovich, Tyler Peabody, Zack Zipnick, and Braeden Nelson.
In the fall, Park City earned second place, losing to Skyline in the championship game on Oct. 16. Spring 2021 saw the Miners earn third place honors once again. The Miners will continue to chase the ever-elusive state championship in both fall 2022 and spring 2023.