PCHS Teachers Take on COVID-19
School during a pandemic? It sounds out of reach for most schools, but not for Park City. Amid the 2020 coronavirus pandemic, students and teachers have had the option to resume in-person learning full time. 
At first glance, it is easy to overlook the abundance of work the PCHS staff has put into the 2020-2021 school year. 
"It was a different kind of summer. Teachers worked more than usual just to prepare for the different circumstances," Megan McKenna, PCHS AP Environmental Science teacher said, highlighting the fact that it really did take a village to get things working as smoothly as they are.
Teachers face numerous concerns when preparing for a new school year, unfortunately, this year there were a few more added. 
"Obviously I don't want anyone to get sick. Kids getting sick, it's bound to happen. My major concern is if people are comfortable," stated Erin Obrien, PCHS US History teacher. 
Some students wait in the hallway until everyone has taken their seats before entering class. Social distancing is difficult to execute in a few classrooms, so that is often a worry for both teachers and students. 
Obrien adds, "I want people to come to school and not be afraid to be there. But that's always the name of the game. It's not just COVID, it's just sad we have to add another thing."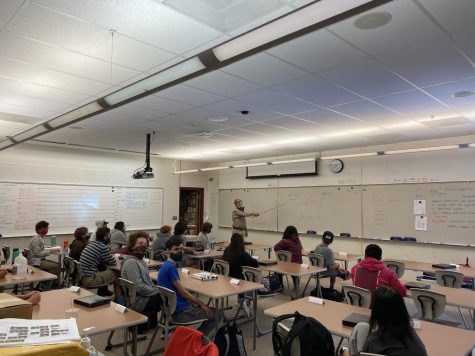 Many students and teachers have seen a rise in class sizes since opening up. This issue varies upon classes and teachers. Obrien claims that this is some of the smallest class sizes she's seen as a teacher with her largest class being 22 students in-person, while McKenna's largest class is around 30 students in-person, making social distancing a difficult task. 30+ students are not out of the ordinary for most teachers at Park City High School. Around 400 new students have moved into the Park City School District. 200 of which attend the high school. The district is seeing students from Texas, New York, Arizona, California, New Mexico, Maryland, and many more.
Vice Principal Jamie Weekes states, "It's nothing we can't handle."
While it's easy to look at the cons COVID-19 has left us with, there is much good to come out of this situation. Park City High School is one of the few Utah secondary schools to resume full-time in-person learning. Other high schools, such as Viewmont High School, have approached the school year with a hybrid model. Students with the last names A-L physically go to school Monday and Wednesday- Mon. being an A day, and Wed. being a B day- and last names M-Z go on Tuesdays and Thursdays, and all students learn online on Fridays. 
"I think we're doing the best we can in the circumstances, but as long as we don't get lax like week 4 people start taking their masks off, I think we can sustain it," said Obrien. "But I think we need 100%. But if we shut down, at least we know what to expect. Teachers will be able to hit the ground running."
PCHS students are extremely fortunate to have this opportunity. Everyone certainly hopes that we can keep this up till next June, but it'll take the whole community to make this feasible.