2022-23 Debate Season Recap
On Saturday, March 11, the Park City High School Debate team boarded Le Bus at 6 AM for the final time of the 2022-23 season. This particular tournament had been considered to be of the utmost priority for the season: State. Luckily, the Miners fulfilled their ambitions and displayed an impressive showing at the 5A State Debate Tournament.
Park City took 2nd place overall, losing by only 9 points to the reigning champions, Skyline High School. Although it may not have been the championship the team was after, this was especially impressive considering Park City had only thirteen students entered, compared to thirty from Skyline.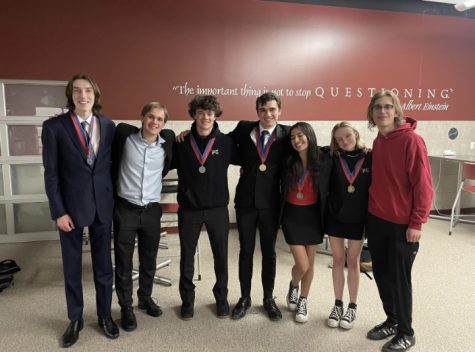 Park City took home two first-place finishes, one in Foreign Extemporaneous Speaking and another in Lincoln Douglas Debate. The team also took 2nd, 3rd, and 5th places in Public Forum, 3rd in Policy, and 5th in Lincoln Douglas. As for speech events, there were nine students who finished in the top 10 of their events.
What's more, in addition to the success at State, the debate team had a remarkable season overall. Here are some of the highlights:
Local Tournaments
The team took sweepstakes (first place overall) at the very first tournament of the year — the Beehive Bonanza. Throughout the rest of the year, the team attended around eight other local tournaments, having some students podium in their events at every single one. 
ASU
The team went abroad this year and attended the Arizona State Invitational, a national tournament hosted at Arizona State University. This tournament was especially difficult, and despite the fact that none of the Park City debaters broke to elimination rounds, the team had a lively time in Tempe, Arizona, and learned a lot from this fortunate experience. 
National Qualifiers
In order to attend Nationals for speech and debate, students must qualify at the National Qualifiers tournament. This year, four students from Park City were able to qualify, and will potentially be attending Nationals in Arizona this summer. 
Tournament of Champions
The Tournament of Champions, or TOC, is the most prestigious debate tournament in the country. In order to qualify for this tournament, debaters must receive two "bids" from other national circuit competitions by making it to a late elimination round. This year, several members of the team were chasing bids at intensely challenging national competitions throughout the season. One public forum team secured both bids this year by making it to the semifinal rounds at two national tournaments, and they will be attending the TOC this April. 
Ms. Williams, the head coach, sums up the season nicely. "I think we had an excellent season. I think we grew tremendously…I'm really grateful for the fact that the culmination of the season was an all-in, all-hands-on-deck team effort."