What's The Deal With Vail?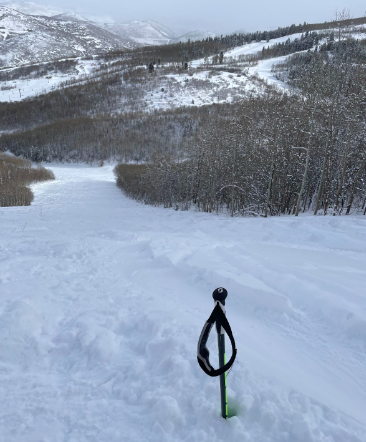 Vail has enacted major changes to Park City Mountain Resort since acquiring it in September of 2014. First, they built Quicksilver Gondola, which connected Park City and the Canyons, combining them into the largest domestic ski resort. Another Vail plan was to upgrade Silverload Express and Eagle Chairlift — set to be complete this year. Over the summer, chairlift equipment from Doppelmayr for their newest plan could be seen consuming the majority of the lower parking lot near First Time Lift. Then, one day it seemed to disappear out of thin air. So, what happened to the millions of dollars of lift equipment? 
Vail Resorts Management Company, who holds a notorious reputation among locals for exacerbating crowded lift lines, planned on upgrading two PCMR lifts — Silverlode and Eagle. Both points of high congestion, the thought was that this would relieve lift line stress. Vail announced this renovation in September of 2021 as part of a $320 million, 19 lift update across 14 different resorts across Vail's nationwide empire. Vail claimed the plan would "enhance the guest experience" at all resorts.
So, Vail went ahead and purchased millions of dollars worth of equipment for renovation. They subsequently left the equipment in a parking lot to sit, until they planned on starting construction. However, a problem soon arose. Four Park City locals appealed the original permit that was granted on June 16th, 2022.
The argument for the appeal was that the improvements made would cause PCMR's Comfortable Carrying Capacity (CCC) to be exceeded. Many already believed the CCC was set too high and was cause for concern, so the increase in traffic flow to the middle of the resort would end up outweighing the productivity gained by the lift improvements. 
Another cause for concern among the four locals who challenged the permit was parking, which has already been frustrating. Many locals can testify they've spent at least 30 minutes looking for parking at least once under Vail's control. Adding salt to the wound, Vail plans on charging $25 for parking this upcoming 2022-23 season, a notable change from their previous free parking. This would theoretically increase parking availability and decrease emissions but at the expense of angering many PCMR skiers and snowboarders.
The proposed increase in carrying capacity and speed of the Eagle lift would certainly reduce lift lines at the base of the resort, but it would make matters significantly worse at King Con lift. This is because Eagle funnels all riders straight to King Con, as the only other option is to take an extremely long and rather boring cat track back to the base, right where riders started. King Con, already busy and congested, would've been significantly worse off had the permits not been appealed. 
So where did the millions of dollars in equipment that sat in the First Time parking lot go? Vail, rather than holding onto the equipment and challenging the appeal, transported the thousands of tons of equipment to Whistler Blackcomb in British Columbia, another of their many resorts. They are set to replace two lifts at Whistler, but are still committed to resolving their ongoing issue in Park City with the hope of completing the planned renovations at a future time.