Uvalde Shooting Leads to Closure of PCHS Doors
Starting this school year, the exit doors at the end of the 130s and 140s hallways have been turned into emergency exits and are permanently closed to students. The only approved student entry points are the southwest door into the cafeteria and the side door near the lecture hall. The main entrance is designated for visitors only. 
At a Welcome Assembly on August 19, PCHS Principal Roger Arbabi revealed that this decision comes directly in the wake of the mass shooting at Robb Elementary School in Uvalde, Texas on May 24. 
All entrances designated for student entry will be badge-access only. Issues with supply delayed badge distribution, but they were handed out to students on September 6. These badges are intended to be used by students for their entire PCHS tenure, staying with them from year to year. 
The final decision to close the doors was made by Arbabi himself, not by the district or by the state. The state provided no further guidelines on specific safety measures to be taken at Utah high schools. 
Arbabi aimed to solve multiple issues at once with the closure — preventing students from leaving campus prematurely, as well as the obvious concern of protecting the safety of students and keeping the unknown out.
On May 24, in Uvalde, Texas, 18-year-old Salvador Ramos entered Robb Elementary from a propped-open door and proceeded to kill nineteen 4th graders and two teachers with an automatic rifle. Seventeen more were wounded in the shooting.
On July 17, the Texas House of Representatives released a preliminary report of the Uvalde shooting conducted by an investigative committee. In the final section, titled 'Factual Conclusions,' the report states, "Robb Elementary had recurring problems with maintaining its doors and locks… Robb Elementary had a culture of noncompliance with safety policies requiring doors to be kept locked, which proved to be fatal." The report also added that "teachers at Robb Elementary often used rocks to prop open exterior doors." (pages 70, 71) The report concludes that the expectation was for the west door to be continuously locked, but it was left propped open, which led to an unobstructed entry point for the gunman on May 24th. 
The Uvalde shooting served as a wake-up call, as a reminder that security measures need to be taken very seriously at schools. 
Principal Arbabi spoke on the decision-making process that led to the closure of the 130s and 140s doors.
"When Uvalde happened, we realized that the person who entered [Robb Elementary] accessed an area that had direct contact with classrooms. And so what we've done is, we have looked very strategically at all of our entrances, and tried to reduce how many entry points we have, and also reduce any entry points that lead directly into a classroom setting so that we can minimize exposure," said Arbabi.
One thing that sets Park City High School apart from all other Park City School District schools is the amount of entry/exit points. At every other PCSD school, students enter exclusively through the main front door of the building — there are very few side door or back door entrances for students, especially at elementary schools.
According to Arbabi, PCHS has either 13 or 14 entry points. Four of those have been closed down due to construction in the horseshoe area, and many others have been permanently changed to emergency exits, equipped with scream alarms. 
Arbabi said that while there has not been too big of an issue with kids exiting out of the 130s and 140s doors thus far, students that repeatedly disobey the signs will recieve a Safe Schools violation. Safe Schools is the district's official discipline policy, which defines the consequences for certain acts, according to a September 2021 KPCW article.
An act that jeopardizes the safety of Park City High School, such as using the emergency exit doors in an inappropriate manner, can be met with a suspension of up to ten days.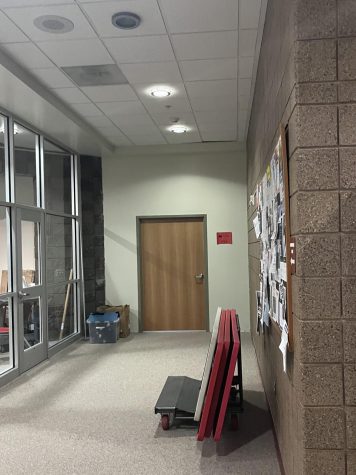 Arbabi also mentioned that there were plans in the works to add one more student entry point as soon as next year. 
The new entry point will be installed directly to the right of the Counseling Office, where the current CNA class is temporarily housed due to construction. This will bump the number of student entry points to three — all badge access only.