PCHS Students Walk Out to Defend LGBTQIA+ Rights
Park City High School (PCHS) students arranged for a nationwide walkout on Transgender Day of Visibility to protest recent legislation targeting the LGBTQIA+ community at 9:15 on Thursday, March 31. 
The legislation includes Utah's H.B. 11, which prohibits transgender girls from competing in school sports. The students also protested legislation from other states. For example, Florida's "Don't Say Gay" bill forbids public school teachers from teaching specific grades about sexual orientation and gender identity. In addition, Texas's legislation reports that gender-affirming care for transgender youth establishes child abuse. 
Many students and several faculty members left their classes on Thursday to meet in the senior parking. Senior Jace Deininger led the walkout. 
"My friend sent me a TikTok that was made by a student in Texas. Texas is the state right now that is saying that if a parent is found out that they have a trans kid, then they can be reported as child abusers. There was this student in Texas that made a TikTok saying, 'I want to start a national walkout … on the same day at the same time: everybody walk out of school and show your support for the LGBTQ+ community,'" said Deininger. 
Various PCHS students spoke at the event, including Deininger, sophomores Blue Byrne and Hugh Arbabi, juniors Evan Romero, Jackson Smith, Natalie Best, and seniors Ava Bowlen and Summer McGuire. They expressed their frustration with the recent legislation targeting the LQBTQIA+ community and provided their support. 
Deininger shared his worries and concerns about being a member of the transgender youth. 
"What is so wrong with the world that I have to walk down the street or the hallway afraid of what people will say or do to me? I deserve, we deserve, to be able to live without our identities being a hindrance," said Deininger.
Hugh Arbabi recognized that transgender activists had been around as early as the 1960s in the Stonewall Riot while saying that the LGBTQIA+ community and its allies must step up and protect their freedoms. 
 "Trans people have fought with the LGBTQIA+ community for the entire step of the fight: leading Stonewall, leading a majority of our riots and protests. Now queer people and their allies need to come together to help defend their rights," said Arbabi.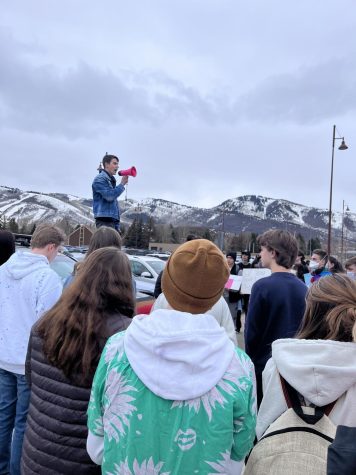 Romero discussed how he had lived a life of fear because of other people's inability to understand. 
"Why should I fear that I have to get killed just because someone doesn't agree with me?" said Romero. 
Smith announced to the crowd that they must take a stand against discrimination for change to occur. 
Best condemned those who want to limit queer representation. 
Bowlen acknowledged her queer identity and shared how the walkout helped her realize she doesn't need to be ashamed of who she is. 
McGuire explained that the bills are in no way beneficial and are only causing fear amongst many people. 
Students learned about the event through social media, peers, and posters. 
"We made some posters and put them up around the school, we told the GSA [ Gay-Straight Alliance], we told our classes … we were on the Miner Morning Show," explained Deininger. 
On the day of the walkout, people were very willing to speak for the cause. 
"Day of [the walkout], people were tapping me on the shoulder and saying, 'can I speak next, can I speak next?'" said Deininger. 
Deninger was very happy with the number of people that showed up to the walkout to show their support. 
"I was pleased by the amount of people that decided to show up. I liked seeing teachers supporting the cause. I think it went pretty well and was impactful for the student body. And I think that it gave LGBTQ+ students a much-needed space and opportunity to make themselves heard," said Deininger.