2022 Student Council Elections Approach
On April 6th, 2022, Park City High School freshmen, sophomores, and juniors will cast their votes for student body president and student body vice president for the 2022-23 school year. Additionally, each grade will vote for their own respective class president or representative.
Juniors Zach Watkins and Abby Dietrichson are running for student body president (SBP), and juniors Alex Katz and Dominik Jamrich are running for student body vice president (SBVP).
Senior class president candidates are current juniors Sofie Billanti and Phebe Marsland. Running unopposed for senior class vice president is Sarah Fischer.
The three junior class representative candidates are Katy Munoz, Zach Minter, and Rollin Serafin. Five current freshmen are running for sophomore representative: Blake Solomon, Tate Campbell, Vince Billanti, Caroline Retzer, and Danielle Olson.
During the elections assembly on April 6th, candidates will have the chance to deliver campaign speeches and present their campaign videos to the student body in hopes of earning their vote. The assembly will begin at 1:00 pm, and will run until the end of the school day at 2:25.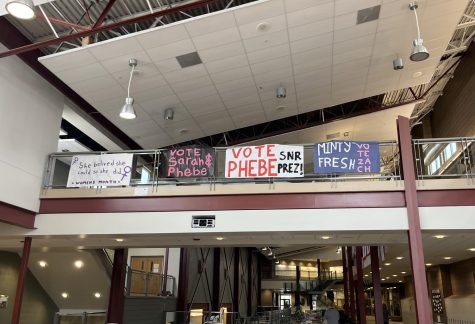 Student body presidential candidates Watkins and Dietrichson both spoke to the Prospector prior to their campaign speeches, outlining the elements of their campaign and their promises to better Park City High School if they are to win the nomination.
Watkins, the current sports coordinator for Student Council, is basing his campaign on two main pillars of improvement at PCHS: promoting school spirit and eradicating hate speech. Watkins outlined his plan for both, and additionally mentioned how he had been helping to find solutions to these issues even before his campaign.
Regarding school spirit, Watkins plans to involve the student body more. He promises to implement polls and voting systems for the student body to voice their opinions when it comes to themes for sporting events and spirit weeks, in hopes of even higher participation rates.
Watkins also expressed interest in changing the layout of the Dozier Field bleachers next year to increase school spirit, if he wins the SBP election.
"I want to move the bands next to the student section [during sporting events] because I think that would make it way more connected. I really just want to create a bigger focus for all sports," said Watkins.
As the current sports coordinator, Watkins has more experience than any other candidate when it comes to planning sporting events and their themes.
Combatting hate speech, the second aspect of his campaign, is equally important, if not more so. Watkins, the founder and president of PCHS Against Hate Speech, would like to "create a unified club community with GSA, Jewish Student Union, Latinos in Action, STUCO and PCHS Against Hate Speech to really combat and educate the student body" against systemic instances of hate speech.
Watkins went on to assure the student body that this was not a promise, but something that was already underway.
"I'm already doing things to combat hate speech; I founded and am the president of [PCHS Against Hate Speech]. I'm actively doing that. It's not a promise, it's already happening," said Watkins.
Dietrichson, Watkins' opponent in the student body presidential election, stated that increasing inclusivity in the Park City High School community is her first priority and her main goal.
She is the current junior class representative (along with SBVP candidate Alex Katz) and puts promoting inclusivity and kindness at the top of her agenda.
"That's a huge thing for me, because I really think that everyone should be valued and treated the same way, and everyone should be appreciated the same way. If I could change one thing about this school, it would be to make everyone feel more inclusive and make the school a safer and more fun place," said Dietrichson.
Dietrichson mentioned she plans to work with many people and organizations to promote inclusivity. She mentioned that working with LIA and various after-school clubs/programs would be very important in accomplishing her goal of increasing overall kindness and inclusivity throughout the PCHS student body.
Additionally, Dietrichson said she has been to meetings and has been working with Diversity of Mind and the Park City Mayor in order to learn more about communication skills in order to help accomplish her overall goal in bettering the high school.
Dietrichson did not specify a concrete plan for next year, but added that "definitely during the new school year, there will be enough communication to where we can get those things accomplished."
Dietrichson also expressed that she was optimistic about transitioning out of the pandemic, and that everything would run smoothly next year.
"We're transitioning, right, out of COVID, and definitely I think we need to get back up on our [school] spirit. I mean we're both going to be seniors next year, so of course we want to enjoy it … I really hope we'll be able to put on as many fun events as we need to and as we want to. Other than that, I think it's going to run so smoothly," said Dietrichson.
Student body vice presidential candidates Katz and Jamrich will be running independently, not tied to either SBP candidate. Dietrichson made sure to mention that every combination of SBP and SBVP would work well together in order to ensure the best for the PCHS student body.