PCHS Debate Team Succeeds in Region Tournament, Looks Forward to State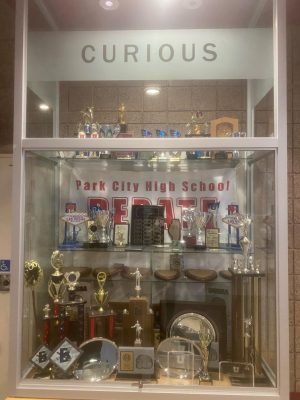 Park City High School's debate team took second place in the Region 6 debate tournament that took place February 25th and 26th, hosted at Park City. Skyline took first place in the region, just barely edging out Park City. Nevertheless, the Miners competed well, propelling them into the state tournament this weekend, March 11 and 12.
Five PCHS teams/individuals placed first in the region tournament. Jack Allison and Cody Rutkowski took home first place in Public Forum, Noam Levinski and Amber Howard placed first in Policy, JT O'Reilly won Dramatic Interpretation, Savannah Tary placed first in Oratory, and Ella Klinsky won Impromptu.  
Park City was especially dominant in Public Forum and Policy, two of the main debate events. In addition to Allison and Rutkowski's first place finish in Public Forum, Jack Goodman and Zach Watkins placed second, and Natalie Best and Zach Minter placed third, completing the full podium sweep. The Miners' Policy team dominated as well, with Levinski and Howard taking first and Noah Canada and Clay Hicke placing second. Public Forum debate is mainly centered around debating current events, while Policy debate offers potential solutions to various issues. 
In addition to their five first place finishes, Park City notched two second place finishes, two third place finishes, one fourth place finish, two fifth places and three sixth place finishes. 
Park City was disadvantaged in the tournament because of its timing related to the high school's February Break, or Ski Week. Multiple PCHS debaters were taken off the roster due to vacation plans, which obviously led to fewer opportunities for points in the region tournament. These absences were a large factor in Park City's second place finish, even though they had more first place finishes than the region winner, Skyline.
Park City will be competing at the 5A state tournament next weekend at Stansbury High School. This tournament is one of the first in-person debate events since March 2020. Last year, when tournaments were all virtual, Park City had a strong performance at state, including first place finishes in Policy and Lincoln-Douglas.
Park City teams and individuals have five preliminary rounds before being seeded for the single-elimination tournament, if they perform well enough in the preliminary rounds. From there, teams and individuals compete for the state championship. 
Junior Public Forum debater Cody Rutkowski expressed an optimistic point of view coming into state.
"I have full confidence in our team and their abilities. It's been our goal since the beginning of the year to be state champs and I'll provide everything I can to get my part of the job done. … Everyone, regardless of the event, is going to leave it all out there this weekend. It's a performance, like anything else, and what we are expected to do and what we will do is perform," said Rutkowski.