The Olympians of Utah: the Skeleton and Nordic Combined Athletes
The Park City alumni that competed in the skeleton event include: 
Andrew Blaser

Nathan Crumpton (American Samoa)
The Park City alumni that competed in the Nordic combined event include: 
Taylor Fletcher

Jasper Good 

Ben Loomis

Stephen Schumann

Jared Shumate
Andrew Blaser began bobsledding and skeleton training in Park City while living in Logan, Utah, where he worked as a track coach at Utah State University. 
He moved out to Salt Lake City, Utah, and then lived in Kentucky for about seven months. 
In January 2016, Blaser went back to Park City and started living with a host family while working at Squatters Roadhouse Grill. 
He has multiple family ties to the Park City area. 
"My aunt … has lived [in Park City] since the early '80s. And then my dad is from Provo, and he grew up skiing in Park City before it was a big resort. And so we've always been around," said Blaser. 
While training in Park City, Blaser shared a house with four other people who were sliding and training together. 
"We called it our compound; we had our little sliding group. We spent a lot of time together driving to and from the track," said Blaser. 
Training as an athlete while living in a very high cost of living area was hard for Blaser. However, according to Blaser, the Utah Olympic Park housing gives more of an affordable option for athletes training in Park City.
"I saw firsthand the struggle to get there. I worked seventy-plus-hour work weeks some weeks … You just are on the go working doubles trying to make ends meet and then surviving off of that for a little while longer. It was an excellent experience, and it shaped a lot of who I am as an athlete and taught me a lot with that work ethic kind of that drive to get there," said Blaser. 
Before skeleton and bobsledding, Blaser competed in track and field, breaking school records and winning multiple titles in the sport.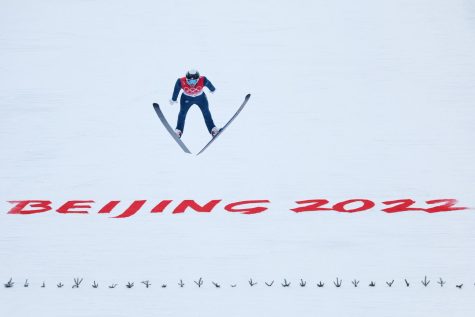 Blaser describes the two ways that people typically get involved. 
"Most of us get into skeleton or bobsled by one of two ways. So, we'll watch the Olympics, and you say, 'hey, that looks cool' … or you have a coach or someone who kind of recommends it. For me, it was a little bit of a combination of both. My sister and I had a joke about doing bobsled when I was done with track, and I had a teammate who had been recommended to try it by a former bobsledder from Trinidad and Tobago," expressed Blaser. 
Blaser ended up trying bobsledding with his teammate, owning up to the joke he and his sister shared. 
Blaser always had a goal to go to the Olympic Games. 
"There's a definite shift for me when it was no longer just friendly conversation, and it became a real moment," commented Blaser. 
Blaser's career accomplishments include racing World Championships in Germany, qualifying for the Olympic team, getting into coaching, and winning the NAC races, mainly in Park City, where his dad gave him his medal. 
Blaser describes that his most meaningful accomplishments aren't on paper. They're not a race result or a push time. Instead, it's about who you are as a person. 
Olympics Skier Jasper Good grew up in Steamboat Springs, Colorado, before moving to Park City after graduating high school in 2015. He joined the U.S. Ski Team once he moved to Park City. 
Good commemorates Park City for its high-quality amenities and access to unlimited training options. 
"On the endurance side, there are so many quality places to enjoy the outdoors during training, whether it's biking, skiing, or running! Training at the Utah Olympic Park for ski jumping has been awesome as well," said Good. 
Good always enjoyed sports; he played soccer and did Nordic combined (a sport that combines ski jumping and cross-country skiing) while in high school. After graduating high school, Good decided to pursue a career in Nordic combined. 
Good dreamt of being able to participate in the Olympics. However, it wasn't until he joined the U.S. Ski Team that he realized that his goal might be achievable. 
"Growing up, I always thought it would be a really cool accomplishment to make it to the Olympics. Once I was named to the national team, it became an attainable goal that I did everything to pursue," said Good. 
The Winter Olympics is an event that takes place every four years. However, training for Good is a year-round, full-time job. He had worked hard to seal a spot in the 2022 Winter Olympic Games every day. 
"It is a great motivator to do whatever it takes to make each training day productive," shared Good. 
Not only is Good an Olympic athlete, but he is also part of the U.S. Army World Class Athlete Program. 
"This is an incredible program for those of us in the U.S. Army and National Guard to pursue an athletic career and represent the Army while doing so," explained Good. 
Two-time USSA Nordic Combined Athlete of the year Ben Loomis grew up in Eau Claire, Wisconsin, where he began skiing at a very young age. At around nine or ten years old, he started traveling around the country for his sport. He has traveled to Park City since a young age. 
When Loomis was fifteen years old, he was introduced to the Winter Sports School. 
"I was presented with the opportunity from one of the club coaches [in Park City] who had some similar athletes to me, similar age, and he introduced his athletes and me to the Winter Sports School of Park City. So, kind of collectively, we decided to join the school together," shared Loomis. 
Loomis said that being an athlete has been great in Park City, especially for his sport. 
"For my sport, Nordic combined skiing, it really has the best facilities and the best training opportunities in the country," said Loomis. 
He started cross country skiing when he was only two years old. His family already engaged in cross country skiing, so it was a sport he was destined to practice. 
Loomis and his older brother were introduced to Nordic combined after watching the 2002 Winter Olympics in Salt Lake City, Utah. He and his brother had already cross country skied, so they thought it would be cool to try ski jumping. 
"[My brother] very much kept me in the sport and is why I'm here today," said Loomis. 
Initially, Loomis skied because he loved it. Then, as he got older, being an Olympian became a huge goal of his.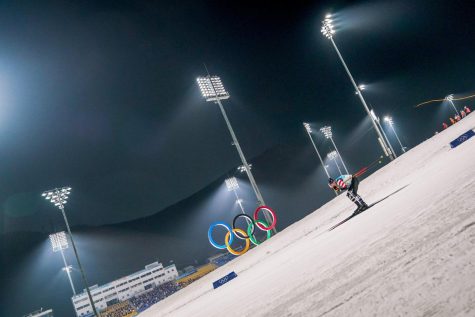 He got the chance to go to the 2018 Winter Olympics in PyeongChang, South Korea when he was nineteen. 
"To have made the team when I was nineteen was really special and cool and definitely helped me this time around," commented Loomis. 
Loomis loved going to a new place and experiencing the culture even throughout the COVID-19 pandemic. 
Nordic combined athlete Jared Shumate moved to Park City when he was around six months old, where he went to Jeremy Ranch Elementary School, Ecker Hill Middle School, and Treasure Mountain Junior High. He did one semester at Park City High School and then switched to the Winter Sports School, where he graduated in 2015. 
Shumate graduated with Olympian Colby Stevenson, so it was super cool to watch him get a medal while in Beijing. 
Shumate also added that growing up in Park City as a winter athlete is excellent. In addition, having access to all the winter venues was beneficial for Shumate's career.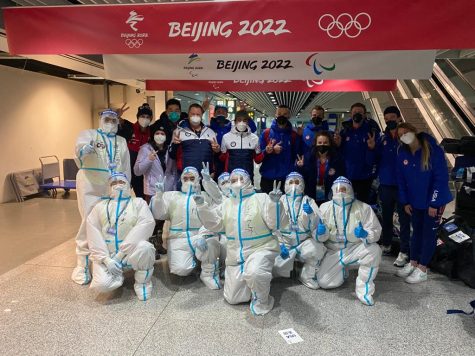 He qualified for the U.S. Ski Team in 2017, where he really became a full-time athlete. 
At the last World Cup that Shumate skied before this Olympics, he qualified for the Olympic team. 
"I think it's a goal of every kid to make an Olympic team. So to know you're going to the Olympics, it's hard to not be all happy and smiley," shared Shumate. 
Given that Nordic combined is a combination of cross country skiing and ski jumping, Shumate and his teammates will typically train for both or either one of those sports a day.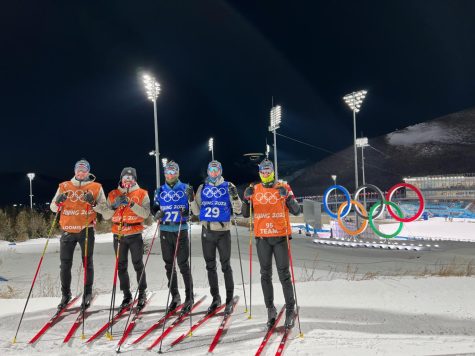 Training typically includes cross country skiing or ski jumping for Nordic combined athletes. 
"We don't have too much time for training because there's so much stuff going on that we got to make sure that our training is focused, and it's going to help us get ready to compete," said Shumate. 
Shumate was especially grateful for the Youth Sports Alliance, which allows children to participate in activities on their school early release days. 
"Without that program, I wouldn't be talking to you from the Olympic Village, I don't think," expressed Shumate.