Students Walk Out to Protest State Mask Legislation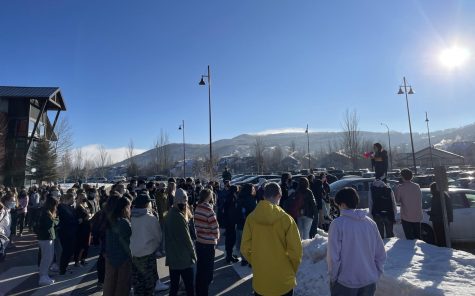 Park City High School (PCHS) students organized a walkout to protest the potential removal of the county-ordered school mask mandate at 9:15 am on Thursday, January 20th.  The Utah Senate has passed a bill that would prohibit school mask mandates, including the one in effect at PCHS.  The Utah House of Representatives has yet to vote on the bill.
About one to two hundred students left their classes during second period to gather in the senior parking lot.  The event was organized by PCHS juniors Chris Henry, Calvin Crossland, Alex Lopansri, and others.
"We had two main goals for this event," said Henry.  "The first was to show the Utah State Legislature that we do not agree with their decision to risk the lives of thousands of people and give a student perspective on the mask debate. We also wanted to show the staff of PCHS that we support them and would like for them to have safe working conditions that don't place their families at risk."
Henry spoke at the walkout, along with senior Carly McAleer, senior Jace Deininger, and junior Olivia Brown.  They expressed their frustration with the state legislation.
Henry spoke about his experience throughout the pandemic with immunocompromised family members, and how masks are especially necessary with Summit County's high COVID-19 and hospitalization numbers.
"I don't want to have to choose between the health and safety of my family and coming to school," said Henry in his speech.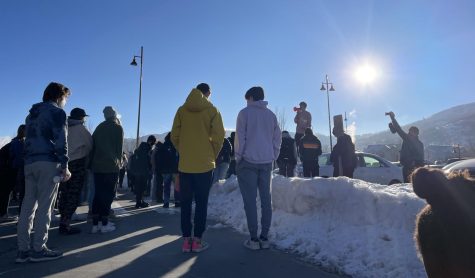 McAleer then discussed her frustrations with the thought process behind many peoples' mask decisions.
"We made a critical mistake two years ago when masks were first introduced. We told people that the reason you're wearing masks is to protect yourself. That's completely wrong. I wear a mask to protect the rest of my family because if I get exposed, at least my wearing a mask ensures that the rest of my family [is less likely to get] COVID," said McAleer.
Deininger spoke about ways to create change at the state level, including voting and reaching out to state lawmakers.
In her speech, Brown said that wearing a mask is a small problem in light of current events, and emphasized the importance of having empathy for others and their current conditions.
"Summit County is number five in the nation for COVID cases per 100,000 people … Wearing a mask is not a political statement but an act of selflessness," said Brown later.
The organizers of the event also brought QR codes that students could use to register or pre-register to vote.
"I thought [the walkout] was very well organized and the testimonies and the people speaking were good," said senior Ben Yaeger, who attended the event.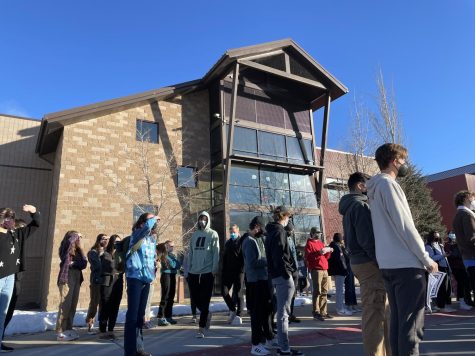 Students learned about the walkout through their peers, social media, and a few flyers posted around the school.
"I am very happy with the amount of people who walked out, it is reassuring to know that so many people care at the high school and that they were willing to walk out on such short notice," said Henry.
Henry reached out to the speakers earlier this week to ask if they would be willing to share their thoughts during the walkout.  McAleer, Deininger, and Brown all agreed.
"I'm an activist, so I really like to get my opinions out there … to raise awareness for stuff that is wrong or things that are unjust or unfair or dangerous," said Deininger.
The PCHS administration did not interfere with the walkout, although several administrators were present, including PCHS Principal Roger Arbabi.
"All of our students have the right to peaceful protest," said Arbabi.  "Throughout my career I've had multiple students who have staged walkouts and we've never interfered with those … we always meet with the organizer to talk about their intentions and the public that they're trying to reach … When I spoke to the organizer, he had everything organized."
The PCHS administration has recommended students wear masks for the entire school year to prevent COVID-19 spread, although there was not a mask mandate in place until January 7th. The school has no control over the mandate; only the state government and local health department can enforce masks in schools.