Debate Students Compete at Tournament
Starting on Thursday, December 2nd, Park City High School students competed in a national tournament for debate. This tournament was called Alta Silver and Black and took place online at Park City High School (PCHS) for students attending the school.
The tournament consisted of three events. The events were called policy, public forum, and Lincoln-Douglas. 
The public forum event entails two opposing teams debating about a current event topic. Both partnerships choose a side of a coin (heads or tails), the winners get to choose which side of the argument they are supporting or if they would like to speak first or second. The opposing team receives the remaining option. 
Senior Grant Murray competed in the public forum event with his partner, Kyle Cink who is also a senior. 
Although the partnership didn't win the competition, Murray learned a lot from the tournament. 
"I improved greatly in not only my debating skills but just seeing the scope of how good our team could be especially for the new people because they showed how much they have grown as debaters and what they are capable of," said Murray. 
In the policy event, two teams of two compete for and against a resolution. In a single round, each person recites two speeches.
Junior Gracie Moe competed in the policy event with her partner, Cat Erlinger who is also a junior. 
Although Moe didn't make it to the next round of the competition, she shared that she also learned a lot.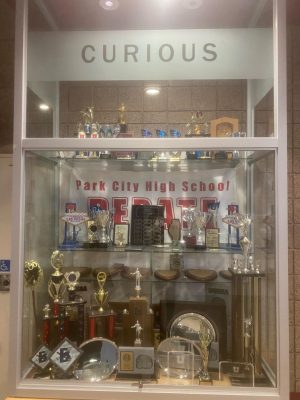 The Lincoln-Douglas event is for individual debaters who each get thirteen minutes of total speaking time and three minutes for questioning. Each round takes 45 minutes, while each student gets four to five minutes in-between speeches to prepare for the debate. 
Senior Noam Levinsky competed in the Lincoln-Douglas event. He broke the quarter-finals, which meant he made it to the top eight of the competition. 
"I feel really good about the school's performance, specifically because we've had a lot of turnout from younger debaters at this tournament, which hasn't happened in the past. And while they aren't winning the tournament or anything, the fact that they are actually able to engage in these rounds of high-level debaters from across the country is just really impressive," shared Levinsky.
Due to Levinsky's performance in two recent debate tournaments, he earned two gold bids to the Tournament of Champions, which qualifies him to compete at that tournament in the Lincoln-Douglas event. 
"The reason why that is significant is to my knowledge, no student from Utah has ever done it before in this type of debate, so it's a pretty big deal for PCHS," Levinsky explained. 
According to Murray, those who would like to support the debate team may write a check out to PCHS debate team or email Anna Williams at awilliams@pcschools.us to ask how they can further help the debate team.