Jazz Band Performs With Chicago Drummer
On Tuesday, November 23, the Park City Institute (PCI) worked with the Varsity Jazz Band and hosted a concert with former Chicago drummer Danny Seraphine at Park City High School (PCHS). They played multiple songs from Chicago and a few jazz standards. They also hosted a clinic and open rehearsal earlier in the day.  The experience was a way for the students to play alongside and watch a professional play and learn what it's like to work in the music industry. 
They played "sing sing sing," "Does Anybody Know What Time it is", "Saturday in The Park", "Make me Smile", "Caravan", and "25 and 6 to 4."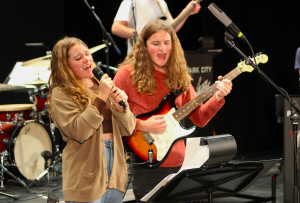 "Zane Jensen, one of our kids, orchestrated an arrangement of it that we'll do. It's pretty close to the original but it just fills out the harmonies and it's going to work out really well for us," said Chris Taylor, the PCHS band teacher. Varsity Jazz Band doesn't always have vocalists, but on this occasion, both Jessica Sutherland and Jonas Watkins sang the classics of Chicago for that night's audience. 
 "It's been fun because about ten percent of the kids really knew who the band Chicago was but as we've gotten into it and we play it more they're like, wow these guys are really good," said Taylor.
Behind the scenes, PCI has been working very hard to make sure these types of opportunities are available to high school students. 
"The Park City Institute and a key component of what we do is to educate the community and students, and this is really our way to kinda allow the students in this area to engage with musicians of this caliber," said PCI Executive Producer Ari Ioannides.  "Hearing people play at that level and understanding them when they are playing on stage and then being able to play with them, I think elevates your whole thinking of what is possible, so for me, it is really important that we give back and pay it forward to students in the same way."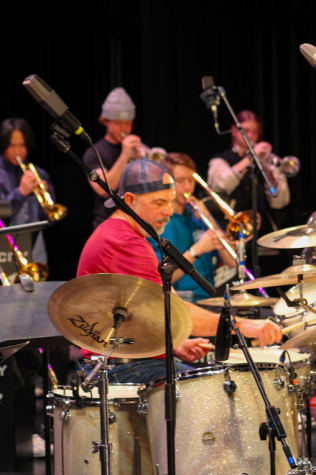 Danny Seraphine had not worked with that many students before this performance, but this time was different.
"it's like a breath of fresh air, they inspire me and I can see that I am inspiring them, and hopefully push them to work harder as to what they can be," Seraphine said.
He wanted to let the students of Park City know that, "The future is theirs, we are depending on them, it's important to give more than you take and to support your fellow students and just be as good to the environment and as kind to the other people around you as you can, be wary of all the pitfalls of youth and don't be afraid to ask for help if you are in trouble, we all need help at one time or another and if you see somebody that needs help, help them because they may help you someday," said Seraphine.