Life of a Musician: Wyatt Pike
Wyatt Pike is a singer/songwriter from Park City, Utah, and a graduate of Park City High School. He went on to compete in season nineteen of American Idol and even made it to the top sixteen before he pulled out. So, what is a day in the life of musician Wyatt Pike?
Before we can get into what a day in the life of Wyatt Pike is, we have to know how he got into music. Pike has always been a musical person. He has been playing his entire life. Over the years he built up his musical skills with a lot of music programs through the Park City School District.
In middle school, Pike wanted to play cello in the orchestra, but they had no room left so he ended up doing percussion. Pike stuck with it until his senior year and made it into advanced percussion. In eighth grade at Treasure Mountain Junior High, Pike found out that there was a jazz band so he joined that as well and did that through his senior year. 
Pike also did programs outside of school. Pike did the PC Rockers in seventh grade at the conservatory in Silver Springs. It is a cover band that plays songs from artists like Def Leppard, AC/DC, etc. Later on, Pike did a program in Salt Lake called Music Garage. It is very similar to the PC Rocker just at a higher level.
Pike graduated from Park City High School in 2019. 
"I think Park City is really competitive and there is a lot of pressure to go to a good college and make a lot of money or whatever it is.  So, I kind of fell into that and I was planning on studying finance or business admin at the College of Charleston," said Pike.
Pike was all ready to go, everything was set, but just a couple of days before he was supposed to start he pulled out. Pike did not feel this was the right path for him, so he took six months off of college, and during that time he did gigs with Mountain Town Music and wrote his EP "Brand New Boy."
During the six months, he realized that music was something he wanted to go forth with so he applied to the Berklee College of Music in Boston, Massachusetts, and started there in May of 2020. Classes were online due to COVID-19. 
Now that you know how Pike started music, and before we can get into a day in the life of him, we have to talk about a little journey that helped his music career.
During the fall semester of music school Pike got a message on Instagram.
"Last fall I got a DM from a casting agent on Instagram," said Pike. "'Hey Wyatt if you are interested, send us a little info, maybe a couple of Youtube videos.  If the producers like you they will give you an email.' Well, I have nothing to lose here, it could be really exciting.  And so, it just popped out of the woodwork," said Pike.
The casting agent was from American Idol. This is something Pike had always been a fan of. As a kid his parents let him stay up and watch the show. He loved it, especially season eleven which featured Phillip Phillips who would eventually go on to win the show that season.
This was an opportunity he was not going to pass up. Pike actually would not have thought about auditioning for American Idol because by the time he turned 15 (which is the age you have to be to audition for American Idol) Fox had dropped the show and it fell off his radar.
Pike flew out to Ojai, California to audition on television in November of 2020, which was a month or so from the end of his school semester. That week for him was stressful, but he enjoyed it. He then moved on to the second round, Hollywood Week, but that came at a horrible time.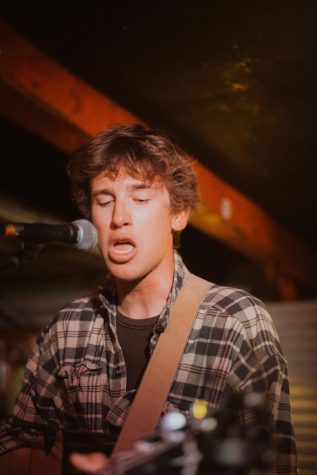 Hollywood week was at the same time as finals for Pike which was horrible timing. As he got further and further into he realized that American Idol was going to do more for him than classes at Berklee. He ended up missing about half of his finals and made it into the top 24, so at that point, he withdrew from Berklee.
Along with missing school, Pike wasn't sleeping well and was a little bit too stressed. He felt it was more stressful than fun.
"With those-kind-of shows, they aren't making stuff up, but it's reality TV," said Pike. "It's very enhanced, guided and it's a little strange to exist through that medium of entertainment.  And so, I just realized the Idol thing was not for me. The reality TV and all of that,"
Pike was also scared of what was to come next. Because of all this, he decided to pull out of the show. He had seen people like Phillip Phillips go on to sign record deals, but he wasn't sure he was ready for something like that if it was presented to him. Pike felt stressed because that thought of maybe he will get a record deal or maybe not and that was just too much for him and a lot to manage.
So now that you are all caught up about Wyatt we can get into what a day in his life is like. 
Pike is currently living in Midtown, Los Angeles where he moved in September. His days are very mellow. It is the dream he wanted.
Pike can sleep in as long as he wants, he can write with his friends, and go to shows a couple of times a week. He is also working on the business side of things like checking his email and managing his website.
Along with recording music Pike likes performing live. He has performed in many cities across the country including Salt Lake City, Utah; Nashville, Tennessee; and Staten Island, New York. Over this past summer, he was playing shows every couple of weeks. He also really enjoys playing in LA. 
Pike's music is wide-ranged. According to Mountain Town Music, his music is rock and pop. American Idol categorizes him as indie-folk. Overall his music falls under a wide variety of genres. The same could be said about his inspiration because he gets inspired by a wide range of artists. 
"In terms of my idols on guitar: John Mayer, Tom Misch, and there is this guy named Jordan Rakei that is really good," said Pike.
He also finds inspiration from artists on the acoustic side of music.
"Acoustically, I think a lot of Gregory Alan Isakov or JP Saxe.  Phoebe Bridgers, I really like," said Pike.
Then for blanket inspiration, he turns to the top five artists who he currently is liking and listens to.
His current top five include Phoebe Bridgers, JP Saxe, Jordy Searcy, Ruston Kelly, and Jeremy Zucker.
Pike is also interested in collaborating with other artists. He even made a list of who those people would be. If someone called him and said that he could have a session with whoever he wanted he would want to write with JP Saxe. 
Wyatt is going to use some of his inspiration for what's to come with his music. He plans on dropping a single next month, dropping a full-length album in early 2022, and touring and playing festivals. Wyatt Pike seems like he is on the track for great success. If you're still interested in Wyatt Pike and want to hear some of his music just tell Siri "play Wyatt Pike on Apple Music."