French Foreign Exchange Students Arrive in Park City
The four 2021 French exchange students have recently arrived in Park City to begin their experience of living in another country until December break.
Each French student is leaving their home in Courchevel, a city in the French Alps, and staying with their American pen pal. They will attend school here at Park City High School as one of the students.
According to Bernard Rizzotto, the French teacher at PCHS, the United States and French school systems are very different. 
"Americans have a lot of freedom in the choices of what they want to learn, whereas in France it is much more traced for you," said Rizzotto.
This program gives students who have been learning another language the opportunity to showcase what they have been learning in the past years and put it into action.
While the students are staying in each other's homes, the goal is that that close relationship will be built and important experiences will be shared.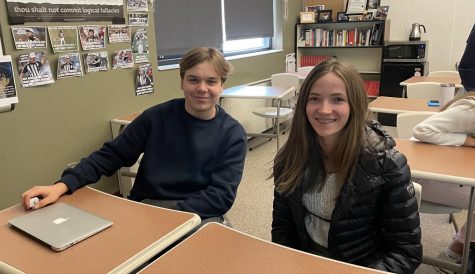 Heidi Lalanne, a foreign exchange student from France, is excited to become close to her American pen pal and her host family. 
"We are going to have a lot of fun, do a lot of activities, and things like that," said Lalanne.
"A lot of the kids that have done [the exchange program] many years ago are still in contact and visit each other every couple of years," Rizzotto said.
The program originally started back in the 1970s when a professional French ski racer came to Park City and found it similar to his town, Courchevel.
He then began to help organize the exchange program between the two small ski towns.
The goal of the program is to allow students from different countries to experience what life is like outside of their town. 
"The hope is that not only do we build a better relationship between these two cities but a better understanding of culture and the world," said Rizzotto.
COVID-19 has complicated the planning for the exchange this year.
The borders between France and the United States were closed for some time before they opened, and the students could come and experience the United States.
Although the French students normally come in early October, they were still able to make it in the 2021-2022 school year.
The American students that are participating in the French exchange program are set to leave for Courchevel this upcoming spring after the February break.
According to Rizzotto, it is a big opportunity for French students to be able to experience high school in the United States. 
"The idea is to share the life that Americans take for granted," Rizzotto said.
"I wanted to do this exchange program because it is in the USA, and for the French people it is like a dream. I love this country and your high school and the Americans are really kind people," Lalanne said.