No Time to Die? Or is it?
With the release of Daniel Craig's final James Bond movie No Time to Die, there has been speculation about having a female lead as the new James Bond.
The movie No Time to Die was released on October 8th, 2021. This movie was directed by Cary Joji Fukunaga, and included many well known actors including Rami Malek, Ana de Armes, and others.
Sadly it is an end to an era, since this is Daniel Craig's final movie. Daniel Craig has starred in the last five 007 movies as the famous James Bond.  
(Minor spoilers below for the movie.)
Now that Daniel Craig is stepping down as the beloved James Bond, the idea of a new person taking over the role is on everybody's mind. As James Bond leaves the agency, Hollywood is trying to see who is going to fill the role, and according to recent rumors, there is a chance that it might be a woman.
In No Time to Die, we see that Daniel Craig has left the 007 agency, but returns after another uprising with Spectre. Spectre is pretty much a more sophisticated terrorist group.  But when he tries to defeat Spectre once again with CIA agent Felix Leiter (Jeffrey Wright), he meets the new 007 agent, Nomi, who is played by Lashana Lynch.
Now, Lynch played the role beautifully, but if she just stays as the 007 in the future it could be even better. 
However, Lynch should be playing a separate agent, not James Bond.
Let me explain. James Bond is a hard role to play, and he has so many characteristics that make a woman playing him difficult. James Bond has been a male role since 1953 in the first book Casino Royale. 
I'm not saying that we shouldn't change his gender because that's how it's always been, but I am saying that it would be hard to change. What is the benefit of actually changing the role to a female lead?
Wouldn't it be better to just create a separate role for a female so then she can make her own name, instead of living in the shadow of James Bond?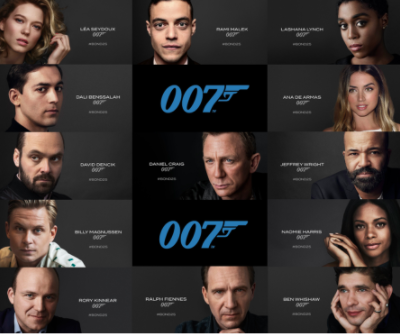 Plus if they are going to make a James Bond character as a female, what would her name be? Jannette Bond? Julie Bond? I'm sorry but that's…well it doesn't sound professional.
When you think about the name James Bond what do you think? A man? A womanizer? International Super Spy? An athletic powerhouse? Serious? 
You don't think of the name James Bond and think of a woman. I'm not saying that they shouldn't have a woman play important roles in the 007 industry—in fact they should. I am saying that a woman shouldn't play James Bond. 
I think that having women in Hollywood is amazing because they are helping inspire young girls that women can do anything they want. But recasting characters originally written as male as female sends the wrong message. Women should be characters in their own right, not just leftovers of famous male heros.
They were able to create a separate role for a woman playing 007 with Lynch.  She didn't get the Bond name but only the number, which is a good thing. By allowing Lynch to be her own character, she becomes an individual character not a gender. Lynch being a woman and a woman of color will be an inspiration for so many little girls out there.
By using 007, women can still be a central part of the Bond franchise, without feeling like token copies.
The James Bond movie franchise is based on the James Bond books, and there are around fourteen books and there are twenty-six James Bond movies. Thinking ahead to the new 007 movies, what's going to happen? Is Lynch going to continue to play 007or are we going to get a new male lead?
So is it time for the James Bond franchise to die?