Student Pantry Available to All Students
The student pantry has been restocked for this school year, offering snacks, long-term foods, hygiene products, clothes, and other resources for students.  The student pantry is in the counselor's office, in the career center/computer lab.  Any student can visit the pantry to grab what they need without any hassle.
The pantry can hold short-term snacks for students during the day, but also long-term food options, like pasta and canned goods.  It also holds some hygiene products, like laundry and shower supplies.  There is also a variety of clothes, including winter coats, and a selection of school supplies, including binders, paper, and pencils.
Every student is welcome to use the pantry, but unless they cannot afford them at home, they are encouraged not to take long-term food.  The goal is to provide food options for those students who need them.
"We emphasize access to food and maintain confidentiality of who uses the food," said Dominik Jamrich, the student in charge of the project.  When students visit the pantry, they do not need to check in with anyone.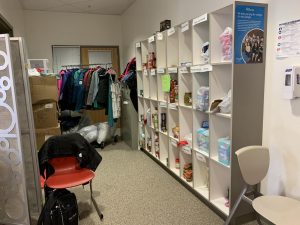 The student pantry has been a part of PCHS for over three years, but starting during the latter half last year, the Student Council made a conscious effort to revitalize it.
According to Jamrich, the pandemic was the reason why the Student Council became invested in the pantry.  Given the exacerbated economic hardships, they thought access to resources at school was more important than ever.
"As part of Student Council we have sought to create an environment where everyone can thrive and get what they need, despite any setbacks," explained Jamrich.
The Christian Center of Park City (CCPC) helps the Student Council stock the pantry.  About every month, the CCPC donates more food to restock the pantry.  At the end of the year, any remaining food is given back to the CCPC.