Beat the Call Program Raises Funding
Park City Education Foundation (PCEF) is concluding its Beat the Call program this Friday, September 24th, at midnight.
Parents can donate by selecting online donation options or typing in a custom donation (one dollar at minimum).  They can also choose to automatically make their donation monthly or annually.  The goal is to obtain at least one dollar per student per school day, so PCEF requests one hundred eighty dollars for each student (there are one hundred eighty school days).
Any student parents who donate to PCEF from July 1st to September 24th will not be called and asked for donations during the Phone-a-Thon, on October 19th.  Contributors are encouraged to "Beat the Call" by donating during this time.
According to the PCEF website, Beat the Call is all about participation.
The donations, big and small, "all [add] up and we are far stronger together, with everyone doing their part, to help all students reach their academic and lifelong potential," said PCEF Associate Director Jennifer Billow.
Beat the Call raises about three hundred thousand dollars, about twenty percent of the PCEF's funding.  This money goes to help fund all the PCEF programs, including PCCAPS, Debate, Latinos in Action, Robotics, Film, STEM and CTE programs, and more.
Schools in the Park City district with the highest percentage of parents who contributed any amount and match/beat the percentage from last year will receive an additional grant from UPS Park City, the Beat the Call sponsor.  Under those circumstances, UPS will give five thousand dollars to the school in first place, three thousand dollars to the school in second place, two thousand dollars to the school in third place, and one thousand dollars to the schools in fourth through seventh place.
Treasure Mountain Junior High, Ecker Middle School, and the Park City elementary schools (not the high school) all can also win Red Banjo pizza parties for classes with the greatest donations.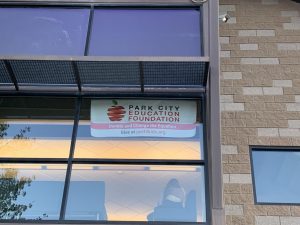 The subsequent Phone-A-Thon on October 19th will be manned by PCHS students, who will be recruited through the programs they support at the high school.
Beat the Call is one of PCEF's oldest fundraising campaigns.  It has been used for at least fifteen years.  It is especially crucial because Utah has the least funded public education system in the country.
Last year, the Beat the Call program raised over three hundred thousand dollars.  PCHS had the lowest participation rate, with only nineteen percent of parents/guardians donating, compared to sixty eight percent of parents/guardians donating at McPolin Elementary School.  Based on an email sent out by Roger Arbabi on the 23rd, PCHS is currently in last place this year as well.
The program broke a fundraising record in 2020.  According to Billow, they expect similar numbers this year.
Parents or guardians can donate before this Friday by following this link: https://pcef4kids.org/ways-to-give/donate.html