Miners Turn Their Season Around
This Friday, September 24th, Miners varsity football will take on the Olympus Titans on the road. The Miners, after starting their season 0-3, are riding a 3-game win streak and sit atop their new region, 5A region 6.
The Miners lost three straight non-region games in August, but since then have gone 3-0 against region opponents. Since region standings are only based on region play, Park City is in first in their new region after moving up from 4A in 2020.
This past Friday the 17th, the Miners took care of the Highland Rams in a game that was never close. The Miners jumped out to a 28-0 lead at halftime, and comfortably finished the game with a 41-6 final score to bring home the W on homecoming night.
Junior quarterback Chase Beyer completed 9 of 22 passes, finishing with two touchdowns through the air and one interception. Senior Carson Tabaracci was the driving force on the Miners' offense, finishing with 106 rushing yards on 9 carries and one rushing touchdown. Tabaracci also added a 23 yard touchdown catch and threw a pass for 32 yards on a trick play.
Other notable performances from the Highland rout include Senior receiver Sam Alford catching 4 passes for 82 yards and a touchdown. Junior Matthew DeMarco was the second leading receiver, tallying 64 yards on three catches. Sophomore Will McCurdy also scored a touchdown on the ground, racking up 21 yards on four carries.
On the defensive side of the ball, Junior cornerback Miles Preston had a stellar game with two interceptions including a 78 yard interception returned for a touchdown to spark a huge run in the first half. Preston leads the Miners in interceptions this year with three.
Senior linebacker Stone Combs led the team with 13 tackles, followed by 11 tackles from Junior linebacker Brayden Beyer. Juniors Carson Baynes and Chandler Kelsch also added eight tackles each. 
The Miners win dropped the Rams record to 0-5 on the season. The Miners moved to 3-3 with their third win in a row.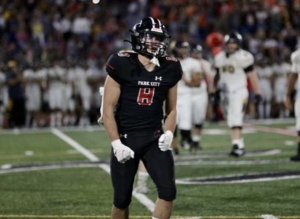 Park City has really turned things around since their 0-3 start and especially their brutal 49-35 loss to Pine View in St. George.
Junior linebacker Brayden Beyer was asked if any major changes occurred before the East game when the Miners were 0-3.
Beyer responded, "I'd say the biggest thing that changed is all of our mentalities. We were all angry, we were all just super mad about how the season was going and we wanted to give something back to our seniors, who have done a lot for us throughout the years. And then we were starting to hear stuff around the school that pissed us off so that really added fuel to the fire, and we flipped the switch and got our mentalities right, and that's when we started turning things around."
The Olympus Titans are 4-2 on the season, coming off a 38-14 loss to East High in a game where they were completely shut out in the second half. The Miners narrowly escaped their matchup with East with a win, defeating the Leopards 24-23 on September 3rd. 
In their first matchup of the season, Olympus lost to non-region opponent Mountain Ridge 37-19. Olympus' region record is 2-1, situating them in second place in the region, tied with Brighton.
When asked about the upcoming matchup on Friday against the Titans, Brayden Beyer had a very optimistic mindset.
"We're feeling good, our defense is looking good, offense is starting to roll, which is really helping out our defense, and yeah, I think we have a good shot to pull off the win this week," said Beyer.
Olympus Senior quarterback Seth Roberts has averaged 139 yards passing per game, totaling 5 touchdowns (TDs) and 3 interceptions (INTs) on the year. Chase Beyer has averaged 145 yards per game thus far and has tallied 7 TDs and 3 INTs.
The Titans rely heavily on their Senior running backs Ben Seagle and Ryan Reynard, both of whom have accumulated over 410 yards rushing and eight combined touchdowns. Tabaracci has totaled 700 yards exactly this season to go along with eight touchdowns of his own and an additional 105 yards receiving.
Park City and Olympus will face off for the first time in the regular season since before 2004, potentially starting a new rivalry, since both teams are relatively equally talented and are set to face off yearly in region play for the next coming years. A win against Olympus could mean a lot come October when the region standings are being determined.