New Miners Join the Staff
The start of the Park City High School (PCHS) 2021-2022 was a rollercoaster for all. But coming back to school there was a flood of new faces, students and teachers combined. 
Many new teachers are starting at the high school this year, and not only teachers but also many new staff members as well. Some of them include Holly Moline, Taylor Davis, Laura Starley, Mariah King, Laura Heise, Kerong Wu, Kari Patterson, Chris Koliashak, Melinda Miller, Meagen Malpede-Shaw, Brandon Smalling, and Tyler Hoffmeyer. 
Taylor Davis is working as a special education teacher. Davis previously worked at Treasure Mountain Junior High (TMJH) for four years as a special education teacher and then continued to work as a behavior tech in the district office for around a year. Davis grew up in Utah, spent four years in the military in Southern California, then came back.
"I grew up in Salt Lake and grew up coming to Park City, and I just always loved it up here. I wanted to teach up here and I just haven't left since," Davis said.
Mariah King previously worked at TMJH as an art teacher, and this year she came up to work at PCHS as one of the art teachers here. King achieved her undergraduate degree in art history, Spanish, and global cultures at the University of Wisconsin and got her Master's degree in teaching K-12 art, and Spanish in Westminster. 
"I taught at Treasure for the last four years, and I have taught at other local schools like the day school and Weilenmann each for a year while my son was young, and I taught high school at South Summit in Kamas," King said.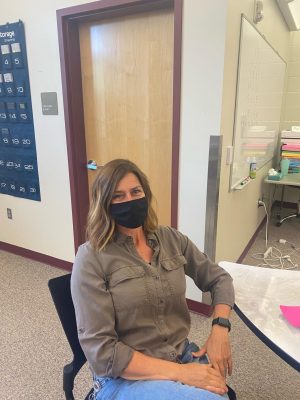 Laura Heise worked at McPolin, Ecker Hill, Trailside, and a high school in California. Heise went to Fresno State, the University of Southern California, and the University of Utah. Heise studied English, teaching (for her master's), and a doctoral program at the University of Utah. Heise has been in Utah for the past sixteen years and is currently teaching miner advantage at PCHS.
"Clean air, mountains to ski and bike and we had family here too," said Heise about what brought her up to Park City.
Kerong Wu is originally from China. She previously taught college students in China and for 3 years in Indiana University. Wu studied linguistics at China and educational inquiry measurement and evaluation at BYU. She taught English as a foriegn language in China and is now teaching Chinese at the high school.
"I got my master's and doctorate degrees in China, and then I got my second doctorate degree in Utah, Brigham Young University," Wu said.
Kari Patterson has worked as a teacher for the past fourteen years. Patterson previously lived in Texas before moving to Utah. She originally studied vocal performance and music. Later Patterson went to a Culinary school in Dallas. Patterson now works as the foods teacher at PCHS.
"My husband and I moved here in June 2021 for my husband's job. He's in media and works in the space sector," Patterson said.
Chris Koliaschak is currently working as one of the science teachers at PCHS. Koliaschak originally thought that he was only going to be staying for the winter but when COVID hit he was forced to stay, and he has been in Park City since. Koliaschak has taught in River City Academy in Alaska.
Melinda Miller works as one of the special education teachers at PCHS. Miller has worked at a school in Sandy for four years before moving up to PCHS. Prior to teaching there, she lived in Illinois.  
"It's beautiful and it is close to my home, and they have some amazing opportunities for teachers," Miller said.
Meagen Malpede-Shaw worked within PCHS doing various jobs and taught at EHMS for a little while last year. She now works as the EMS teacher at PCHS. Shaw studied kinesiology, teaching, and minored in dietetics and nutrition at the University of Utah. Shaw has been living in Utah on and off for the past fifteen years.
"I went to high school here and danced here and I was a cheerleader, and I call this my home," Shaw expressed.
Laura Starley is at PCHS working as an instructional coach. Starley went to Brigham Young University and studied special education. Starley has previously worked in middle schools, including Ecker Hill Middle School (EHMS) in Park City, and then decided to come and work at PCHS.
"The opportunity to work with fabulous teachers and grow as an educator," shared Starley when asked about the reason she wanted to work at PCHS.
Holly Moline is the new secretary for PCHS. Moline has worked as a special education teacher for about seven years. She moved to Park City and decided to come and work at PCHS.
"I really liked the schedule here, and I really liked doing admin things," Moline said.
Brandon Smalling is working at the High School as the new police officer. He has worked at West Jordan Middle School before moving to work at PCHS, TMJH, and McPolin. Smalling has been a police officer for almost 12 years and is currently working for the Park City Police Department.
"This is where I am retiring from, hopefully," Smalling shared.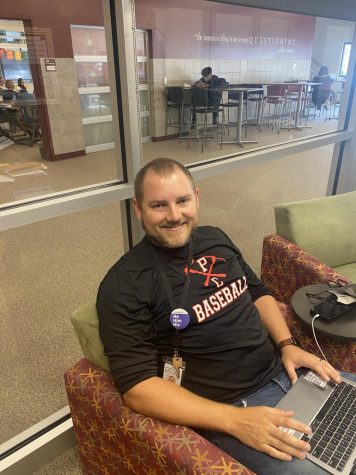 Tyler Hoffmeyer taught at Bingham High School in South Jordan. He is now the tech coach at PCHS. Hoffmeyer went to the University of Utah and studied a bit of everything, from architecture to economics.
"I am a PC alum, so I was born and raised here in Park City and went to Park City high" Hoffmeyer said.
Brad Bess is the new head custodian at PCHS. Bess worked as the head custodian at TMJH for the past 13 years. He started working as the head custodian at PCHS at the end of last year.