Looking Back on Park City's Swim Season
Park City High school swam state February 19th and 20th at Wasatch High School, with the girls placing second overall and the boys ninth. 
The state swim meet was set up differently this season due to the coronavirus. They faced many challenges with few swimmers, quiet stands, boys and girls swimming separately, and sped-up events. 
"I had to swim four events in an hour and a half. It was way too much. Everyone was exhausted but we got through it." said senior swim captain Helena Djunic.
Trying to set up sporting events during a pandemic is going to be challenging. You must follow social distancing guidelines and wear a mask whenever possible. This is especially hard in a pool. 
"Honestly I think it was handled really well. We didn't have to cut anyone from the team which was really nice cause we thought we were going to have to. We just kind of spread out in the pool and then had our masks on once we got out. It worked out pretty nice." said senior swim captain Fisher Caplin.
Both captains have been swimming for over ten years now and said they have never swum so quickly in all their years of competing.
The boys placed ninth overall out of twenty-four teams, with three swimmers competing in individual events. As a team, the boys swam in the 200-meter medleys and held their places in both the freestyle events. 
"Honestly, we just dropped our times a little bit, it wasn't the greatest but overall wasn't bad," said Caplin. 
The girls placed second overall, with seven girls competing in individual events. Most of the other teams who competed had two to three times the amount of girls that they did. The girls competed in the 200 medley relay and the 400 freestyle.  Competing for their best, they placed third, which is outstanding in these odd circumstances. 
Individually, Caplin only competed in relays this season, and Djunic competed in the 100-meter freestyle and the 100-meter backstroke. Djunic placed first for the 100 freestyle and was extremely happy with her outcome.  
This year has taken a toll on a lot of people's mental health. Athletes have been under immense pressure trying to compete at their maximum ability while trying to survive a pandemic. Stress can cause a huge mental block. Being able to recognize these situations and relieve the pressure is a good quality to have as a coach and teammate.
"The most important thing is to have fun and if there is good energy everyone will do their best. My coach has had us all go into the middle of the pool and scream to get our anger out and restart," said Djunic. 
As a captain, it is also very important to take lead and encourage your teammates to do their best.
"Well, I try to get people to cheer as much as possible that a big thing on our team. Um, so I think cheering is really important. It's also really important to have your own energy up so you can help motivate your other teammates." said Caplin
This was both captain's last season competing for Park City High School. Both are sad to go but also excited to see what their future holds. Caplin is unsure of where he will attend college but plans to further his academic career. 
"I was definitely sad, especially because we couldn't swim as a whole team that definitely made it harder. It's sad to know I won't be on this team again, we are a strong team but I'm e
xcited to see what they will be doing next year," said Caplin. 
Djunic will be furthering her swim and academic career at the University of Hawaii on an athletic scholarship.
"I was honestly a little upset knowing that I've put so much effort into this team and it's my last time but also excited to swim with my teammates one last time. They are a strong group of people and I know they will do well next year," said Djunic.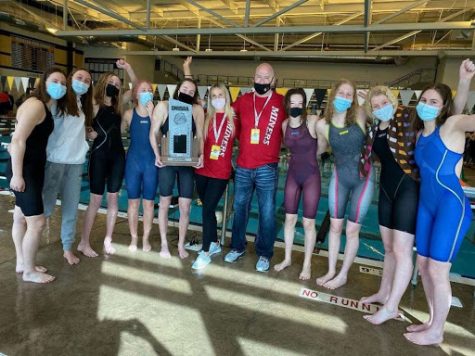 Any students who wish to participate in the Park City High School swim team should do so. There is a great sense of community coming from both the players and the coaches.
"This team has become a family to me. I love each and every single one of them. It's definitely a challenging sport and the coaches will push you to your best ability. But honestly just if you can just work on the little things and have a good time I guarantee you will love it." said Djunic.