Girls Basketball Wins, Assistant Coach Gets Tattoo
Girl's Basketball wins first regional game with a score of 31-26.
The PCHS Girl's Basketball team won a regional game against Spanish Fork on the 19th when assistant coach Darrin Bivens dared to dye his hair red and get a tattoo in celebration.
On February 19th, the Girl's Basketball team played Spanish Fork and won their first regional game of the season. The team had won only one other pre-season game this year against Ben Lomond, with a score of 32-23. 2021 was the team's second year as a 5A competitor for girls basketball, which is a challenging league to be in.
"They definitely performed at a very high-level last night. It was probably the best game I've ever seen even though they lost. They probably played better than they ever have all season," said Assistant Coach Darrin Bivens, "I always felt like they are more athletic than their record says."
The team played Spanish Fork Dons just the night before and lost 57-38. So, what changed in those 24 hours? The team certainly stepped up their game and had a strong desire to win after such a recent loss to the same team.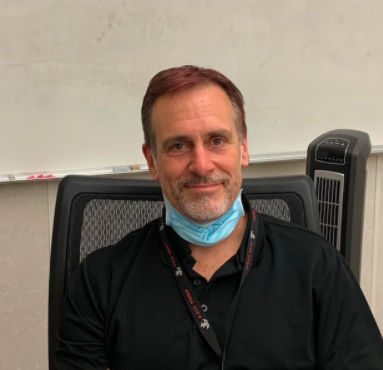 "I think there was less pressure and there was more desire. It was like they really wanted to get that first region win. They didn't let mistakes compound," said Bivens.
Like many things, COVID-19 played a huge role this season. The team had at least one positive case, and around two others quarantined. They also had two injuries this season. All five of these positive cases were varsity players, which made problems more difficult. The team had to reschedule their game against Payson due
 to a loss of players. Payson too had to cancel the rescheduled game due to eight positive COVID cases. A similar situation occurred with Maple Mountain.
Spanish Fork was one of the postponed games and was also one of the few schools able to compete.
"We Played Spanish Fork Thursday night here, and then turned around and played them Friday night there. They beat us here by 19. We go down there the next night and beat them by 4. So it was pretty crazy, pretty wild," said Bivens.
Going into the team's second year of region games, Coach Bivens thought of a fun way to motivate the girls. He said that if the team wins one region game, that he would dye his hair red. Not only two weeks later, a player suggests to Bivens that he should get a tattoo if the team wins two region games.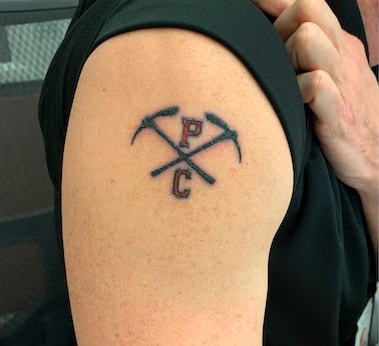 Later on, after a home game loss, Bivens gave a small pep talk to the team.
"I really believe you guys are capable of winning some region games. I've seen enough now, that if you put a game together and do things right you
 could come out of this," said Bivens.
He then proposed an even crazier deal to the girls.

"If you win one region game, I'll dye my hair red, and I'll get a tattoo of the PC logo!" said Bivens. 
When it came down to it, the team gave a strong effort to the game against Spanish Fork. Going into the game there were some unknowns about how they would play. They were able to play sharp and focused, which ultimately led to their win, plus a tattoo and red hair.
During the season the girls showed strength and perseverance. It is not always easy to keep coming back with such a hard season, but they definitely were dedicated to the team and sport. 
"I was always proud of them because they kept coming back. Every time we'd lose a game they would come back to practice and they were all there. They were ready to go. I admire those girls a lot because it sucks to lose and then come back to practice and then lose. And they kept coming, and they kept bringing it. They worked hard at practice," said Bivens. 
The team played their first playoff game on February 23rd against Olympus High School and lost to a score of 37-52, making it their last game of the season. Although they lost their last game, their win against Spanish Fork will definitely be one to remember, for their hard work and commitment.