Super Bowl LV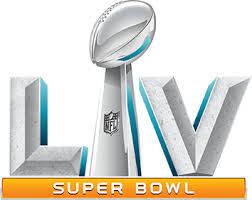 Super Bowl LV (55) featured a matchup between the Kansas City Chiefs and the Tampa Bay Buccaneers where the Buccaneers were victorious with a 31-9 win. For the first time ever, the game took place in one of the competitors home stadium due to the NFL ruling that Super Bowl LV would take place in Tampa Bay before the season started. 
During the regular season, the Chiefs traveled down to Tampa Bay where Kansas City narrowly defeated the Buccaneers 27-24.
Coming into the game, the Buccaneers upset the Green Bay Packers 31-26 in the NFC Championship granting them their first Super Bowl appearance since 2003 where they beat the Oakland Raiders. 
Kansas City defeated the Buffalo Bills 38-24 in the AFC Championship putting them a step closer to winning two straight Super Bowls. The last team to complete this accomplishment was Tom Brady and the New England Patriots who won in 2004 and 2005. 
Super Bowl LV was Brady's 10th appearance in a Super Bowl and his first with Tampa Bay. With the win against the Chiefs, Brady is now 7-3 in the Super Bowl.
After falling to an early 0-3 deficit, Tampa Bay was able to respond with two straight touchdowns giving them a 14-3 lead. By halftime, the Buccaneers were able to extend this lead to 21-6. 
To start the second half, Patrick Mahomes and the Chiefs scored another field goal to narrow Tampa Bay's lead to 21-9. In response, the Buccaneers finished the game scoring 10 straight and holding Mahomes scoreless in the fourth quarter. 
With the injuries to two offensive linemen for Kansas City, Mahomes seemed to be under constant pressure and failed to find a rhythm within the game. This loss was Mahomes first loss by more than one possession in his professional career with the Chiefs. Mahomes finished the game throwing for 270 yards with no touchdowns and 2 interceptions.
After the game, Brady was awarded his 5th Super Bowl MVP. Brady finished the game with 201 passing yards and 3 touchdowns, 2 of which were to his past New England teammate Rob Gronkowski.