PCHS Will Test to Stay Open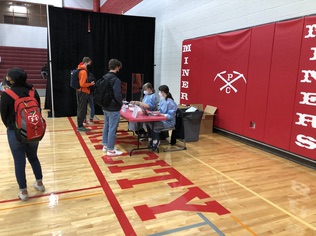 Monday, January 25th was not the typical morning rush seen at Park City High School. The PCHS "Test to Stay" program went into full effect the 25th after the school-wide shut down due to high COVID-19 cases. This program has been backed up with support from the Utah government, donating rapid antigen tests to keep the doors at PCHS open. 
"When we went remote 2 weeks ago, we had an option to either test to stay and then the numbers don't matter, or we can close our school," Arbabi said "We decided to close and start back up again and have all the procedures in place."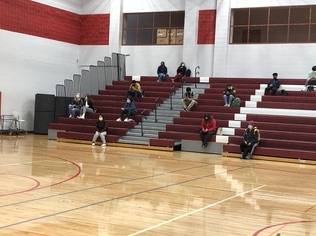 With the "Test to Stay" program in place, PCHS can have over 15 cases (the number required to close) and still be in operation. All 1,200 students are not tested daily. Arbabi said that 155 students are tested on an 8-day rotation every Monday through Thursday.
The test used is called the BinaxNow. Arbabi said that the staff at PCHS are trained to handle this test due to its simplicity. Each student tests themselves by putting the nasal swab in each nostril and twisting it five times. Students then wait on the bleachers for their test results.
The BinaxNow test is a rapid COVID-19 test. According to Arbabi, "The positive agreement [of the BinaxNow test] is 97.1%, and the negative agreement is 98.5%, but that varies because it depends on where you are in your stage of infection."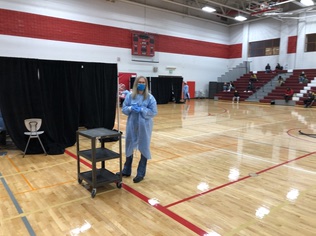 The test is effective in reporting symptomatic cases but is not always accurate in reporting asymptomatic ones. With 40% of people infected with COVID-19 being asymptomatic (according to the National Institute of Allergy and Infectious Diseases), it is important to continue COVID-19 protocols that PCHS has been practicing. 
Staying open right now, according to Arbabi, is a safe option. 
"Because our students are so compliant, and mask to mask transmission is so low, we feel that if they are in school, we can actually keep them safer." Arbabi said, "because we know that if students are off campus they are hanging out with each other, and transmission goes up if they are not here in school."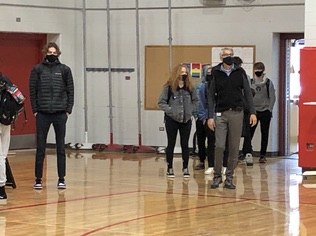 Students at PCHS have had a generally organized and positive experience with the "Test to Stay" program. Juniors Carson Tabbarachi and Stone Combs said that their testing was speedy and made them feel more comfortable at school. On the other hand, Juniors Tracy Winterhaller and Isabelle Luken said that the process happening during school was disruptive to their learning, with Winterhaller missing thirty minutes of her class. 
PCHS will continue the "Test to Stay" program for the foreseeable future. Right now, Arbabi said, "If we feel that we have an internal, super-spreader event, we don't want to put anyone at risk [being at school], and we don't see that being the case right now."