Park City High School Closes Their Doors
This morning, The Miner Morning Show broke the news that Park City High School will be transferring to a remote learning schedule starting tomorrow, January 13th.
This decision comes after sixteen active COVID-19 cases were reported last night.
Principal Roger Arbabi said, "We jumped from 6 to 14 cases yesterday during the day [Monday]."
The remote schedule will follow the one tested during the pipe burst at school eight weeks ago. The revised schedule in the district's Instructional Continuity Plan (ICP) will give students ample time in the morning for individualized work, then their classes will follow.
Teachers will work on-site according to their normal contract hours.
"The expectation is that students are going to follow the ICP, the schedule will be 45 mins, break, 45 mins, lunch, 45 mins, break, 45 mins," said Arbabi.
Class time is being cut in half to help students balance their homework. The 45 minutes is meant for teaching, while the breaks are meant for students to complete their homework. Nevertheless, students are expected to be learning the same amount of material.
Fridays will be open for individual work time, giving students the opportunity to catch up on work they may have missed over the week, and allowing teachers to provide support to their students. 
"Even though we're cutting the classes shorter, that doesn't mean that there will be less work," Arbabi said.
Some teachers, however, fear that cutting class time in half will result in getting half as much done.
According to chemistry teacher Gaylynn Mooney, it is not fair to require students to make up for the missed class time as homework. 
But student and faculty safety are of the utmost importance. 
English teacher Kelly Yeates explained that she is relieved to see the district taking action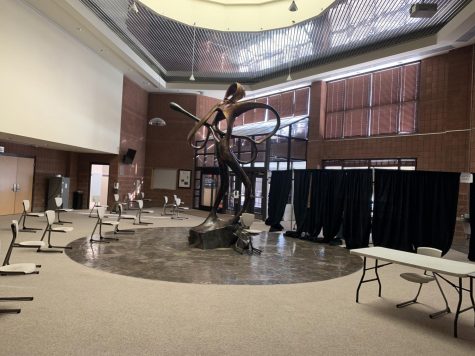 and following the original guidelines created. 
During this closure, students are expected to take it seriously. Because of Winter Break activities, some students and faculty alike were exposed to the virus. Due to tourism, Park City experienced an increase in potential Covid cases.
In order to keep the spread down, students are encouraged to not gather during this time.
"The most important thing is that students know during this time it's important for them not to be gathering in groups and going out and partying because that defeats the purpose of the soft closure," said Arbabi.
After students return to school, the administration will be implementing a program called Test To Stay.
"That will allow us every two weeks to test every single one of our students to our campus so we can catch students who are positive all along.," Arbabi added.

The District received funding from the State of Utah to encourage more testing to catch any positive cases.
Arbabi said the test will be a "Vitox Now Antigone test; it's a rapid 15-minute swab test up the nose." 
Students will get listed alphabetically, with 150 students getting tested each week. They will have four rotations; Monday, Tuesday, Wednesday, and Thursday. 
The lists will be posted outside the office, and more information will be given after the soft-closure. Any students that refuse to get tested will be forced to stay at home for 2 weeks. 
"Our intention is to keep schools, and our students as safe as possible." said Arbabi "I have worked so hard to make sure that's the case. Unfortunately, students getting COVID are now out of our control."