PCHS Dry Run of COVID-19 Testing
Last week, Park City High School experienced their first dry run of on-site COVID-19 testing.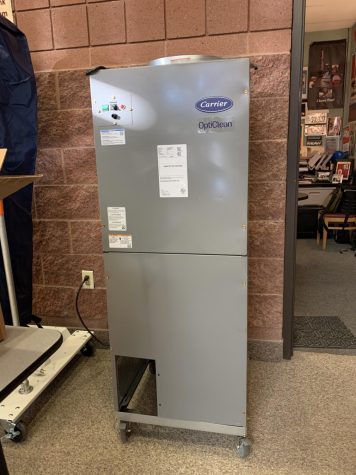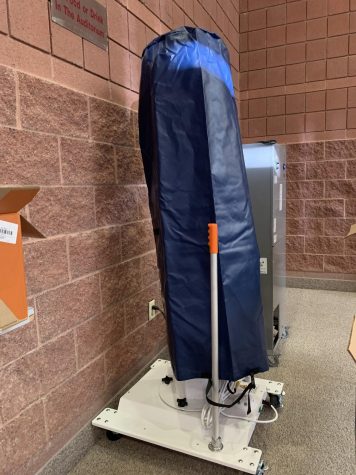 The rapid COVID-19 antigen tests started last week in accordance with  a new Utah Mandate that any student participating in athletics or extracurriculars need to be tested every two weeks. PCHS set up their testing center in the Eccles Theater, adjacent to the school, set up with filtration systems, UV lights, the rapid tests and school nurse to administer the tests. COVID-19 testing will help keep sports and extracurriculars operating.
"One of the lifelines to keep people happy and sane is to keep participating in sports." said Chief Operating Officer Mike Tanner. 
As the student walks in, there is a check-in station where they must turn in their parent consent form and then receive their test set. Behind the check-in station is a curtain blocking off the surroundings with two testers in place to inform the student on what to do. The students are then instructed to stick the swab into their most congested nostril first until they start to tear up and then do 5 swirls around the nostril. After this is completed, the student must move to the second nostril and repeat the same procedure. Once the swab has been stuck in both nostrils, it is given to the testers and the student is told to wait 15 minutes for results.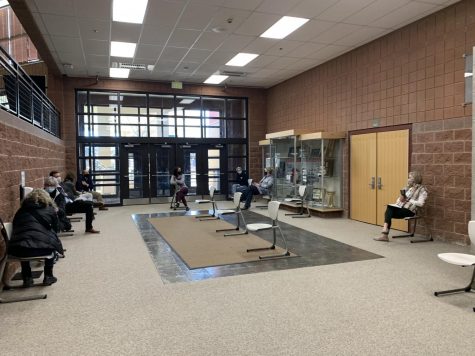 One of the major issues throughout this pandemic has been the cost of testing. The Park City School District was paying for the majority of personal protection equipment costs in the beginning, according to Tanner. But now, as the pandemic has progressed, so has the coverage of costs.
"Now the national supply chain is starting to flow through the carousel. So it's starting to come from the state to the county to us." Tanner said. "That's nice to see that happen because we spent a couple million dollars of PPE here."
The mandatory testing is presenting itself now because of feedback from the state and national level, said Tanner. Park City High School has seen outbreaks of COVID-19 from athletic teams, as have the rest of the state. This testing is providing extra security for students to continue their activities that provide them not only with a sense of normalcy and opportunities for scholarships, but also the opportunity to feel comfort and fulfillment in what is an emotionally difficult time for many. 
Principal Roger Arbabi acknowledged that although it is important to keep participating in sports, testing may increase stress within athletic teams and the students themselves.
"If we have a student that is testing positive, it is going to have repercussions for that student, it is going to have repercussions for the team," said Arbabi.
But it doesn't stop just at having positive cases. Because this testing is mandatory, parent's who do not consent to have their child tested through the RedCap system, the child cannot participate in the activity. 
"That's stressful for that kid because maybe sometimes that parent says 'No, I'm not going to' but the kid is okay with it and it might cause some problems at home and for the dynamics of the team." said Arbabi.
But having testing at school will make it more convenient and accessible for all students. English teacher Elaine Peterson expressed her gratitude for having testing available.
"I'm really happy that they are doing this. I feel like, like out of experience it was easy and results are quick and it keeps everybody safe." said Peterson. "I'm thrilled that we all know that we have access to it and we can all determine because then we can see family members if need be and etc."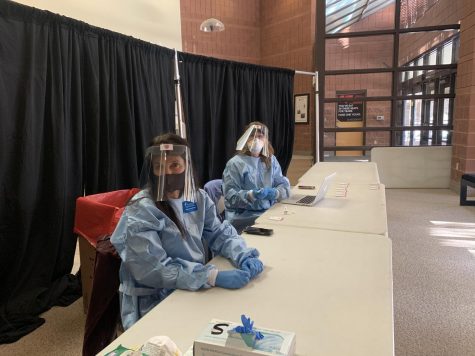 The testing has already been out for a week, but not everyone is confident that the system is flawless. The rapid tests are not the most accurate for assessing if someone has tested positive. The protocol at PCHS now, according to Tanner, is that if a child tests positive, they are referred to the testing at Intermountain Park City Hospital for a second test. If that test appears positive, then the school will follow with the typical quarantine protocol. If this test appears negative, however, the student will be assumed to not have the virus and continue normal school behavior.
Teacher Rebekka Hall said, "A question I have is how accurate is it, and something I noticed is that there was no disinfecting in the waiting area and if someone was positive that might be something that we could add?"
The testing at PCHS will provide availability to critical infrastructure to help with the fight against COVID-19.
"This is one step in looking at the student population to see whether or not we have a hidden problem." said Tanner.