Taking Sport Beyond the Court
New program inspires athletes to help others
Clubs are a student favorite here at Park City High School. This year with the coronavirus, PCHS is fortunate enough to maintain these clubs, including Especially for Athletes, or E4A.
E4A is a Utah based charity organization that has been on and off in our school for the past few years. This nonprofit organization was created by "professional athletes, educators, and coaches".
Especially for Athletes claims its main focus is to "inspire student athletes to maximize their athletic potential and to use their talents and social influence to assist and lift others."
The program goes around to schools all over the country and talks to students about what it means to be a great student.  They talk about never giving up, conquering challenges instead of running away, etc…
The Especially for Athletes website states "E4A is seeking to build a culture of athletes focused on changing lives through better use of the attention and influence that accompanies their position."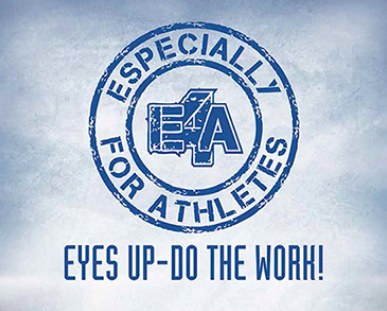 The organization uses the term "sportlight" to describe the amount of attention given to an athlete at a certain time in their life.  E4A helps athletes take that sportlight and figure out how to make a difference in their life as well as others.
The club focuses on issues such as bullying and suicide by assuring that kids feel loved and valued.
E4A has a slogan that says "Eyes Up, Do the Work".  
This slogan has been circulating the country and gaining popularity.
Many professional athletes wear the "Eyes Up, Do the Work" bracelets including former Utah Jazz Player, Gordon Hayward.
Lauren Allen is the current president for E4A at our school.  In previous years, there have been other presidents like Allen's sister, Amanda Allen.  Jamie Sheetz, the school's athletic director, is the current E4A advisor.
"Last year they didn't do it because it was so unorganized and they couldn't reach out to everyone, so then I thought that since it's such an easy club for athletes to get involved in I would bring it back this year" says Allen.
As of right now there are about 50-75 students interested in the club.  
Back in 2017 E4A came to PCHS to talk to students.  Since then, Allen stated "I'm planning on reaching out to coaches and seeing if they can get their athletes interested."
The majority of the people participating in the club right now are tennis players because Allen is a tennis player herself.
Allen says one of her goals is that she hopes that she can help students be the best they can be in their sports.
Because student athletes are looked up to at PCHS, students should use their influence to better themselves, the school, and their peers.
This organization offers a unique opportunity to help students who may not otherwise connect, to come together and build a better and stronger student body.