The Money Behind COVID-19 Mitigation
The coronavirus has changed our world as we know it, especially our schools. For months in advance, the reopening of schools has been carefully planned and mapped out to bring kids back in the safest possible way. With all of these changes comes a price tag. How much money has the school put towards preventing the spread of the coronavirus?
Numerous changes have been made throughout the Park City School District for COVID mitigation; masks, distanced classrooms, sanitizing stations, advisory signs, new tools and technology, remote learning tools, and more.
Some of these changes have incurred significant costs, while others have not.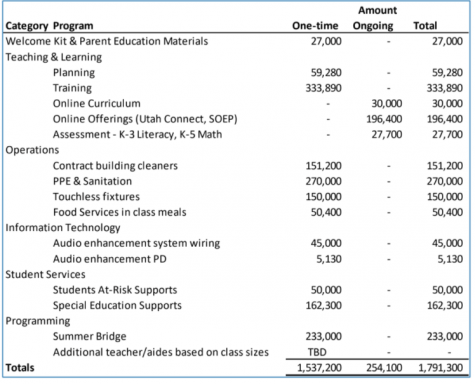 To the left is the projected cost to support the continuum of instructional options, broken down into categories.
In total, $1,791,300 has been spent on COVID-19 and school reopening.
After showing senior Brayden Drury the budget, he replied; "Throughout the school, I have only noticed hand sanitizing stations and walkway signs."
 
He continued that he had not noticed 'touchless fixtures or new technology', although he wasn't quite sure what they were. 
MaryPurzycki, a science teacher at Park City High school stated; "We watched two videos for training,, and that's it." 
She also didn't know what 'touchless features' meant, her only thought was that it could be the new video streaming some teachers are trying out, or possibly the automatic sinks and toilets in the bathroom."
"It's a struggle to accommodate remote and in-person learning. When I'm teaching in-person, I'm thinking will my remote learner get this?"
Although Purzycki also added that she has incorporated many other tools for her remote learners, such as Quizlet or Kahoot. "Teacher-wise, there's definitely some things we could use some more training on to accommodate for the remote learners."
The district has spent $270,000 on PPE and sanitation; cleaning desks, chairs, and more. According to the National Health Institute, the Coronavirus is stable for several hours to days in aerosols and on surfaces. Although, are surfaces the real danger at school?
Besides sanitation, another way to prevent the spread of the virus is to socially distance 6 feet. When asked if he feels if the halls or classrooms are distanced, Drury replied; "No. They let us out at different times to limit the number of people in the halls, but other than that we aren't 6 feet apart, especially in classrooms." 
"Online learning feels haphazard and thrown together at the last minute," said Senior Lance Rothchild, an online learner at Park City High School. "It's grossly inconsistent and not one of my teachers has been able to set up true synchronous classes without a significant drawback." 
Students, teachers, and administrators are playing it by ear every day, and everyone is working their hardest to stop the spread of COVID-19.