Treating Every Week Like the Last
With so much change occurring because of the coronavirus, sports are adjusting to safely continue their seasons. 
For professionals, basketball and hockey are finishing their seasons by playing the playoffs in a controlled "bubble" away from everything except their teammates and other teams. Baseball and soccer are finding solutions by constantly testing athletes and keeping all audiences away. For football at Park City High School, things are being handled a little differently.
The changes haven't been as drastic as the pros, but extra precautions have been put in place to sustain the health and safety of the players.
As Head Varsity Coach Josh Montzingo put it, "you have to be mindful of everything you do."
Even with all of the precautions that UHSAA put into place to help keep the athletes safe, the season could end at any moment.
With the possibility of losing the season, Senior Travis Hobbs says that the team "tries to play every game like it's our last because you never know."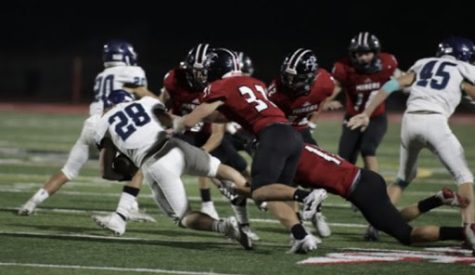 With this threat, Montzingo has even taken the extra precaution to move Senior Night to the third game of the year. 
"We're hoping that we play the whole season but nothing is guaranteed at this point," Montzingo said, "I don't want to take any risks of not recognizing our Seniors."
Other states, like California, have canceled athletic seasons, making Utah a place where no games can be taken for granted. 
Hobbs recognizes this opportunity and looks to take advantage of every second that he has on the field.
"We have this privilege of playing where a lot of kids don't and it could stop at any moment so you gotta play hard every play."
Even with the future of the season up in the air and all of the work needed to make it to the next week, Montzingo does not regret a thing.
He ended by stating, "Yea it's added a little extra here and there but in the end, it's all worth it."