Twin Athletes Sign to D1 Lacrosse Schools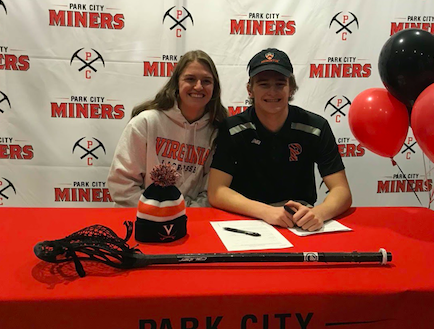 Every highschool athlete dreams of getting to continue to play their sport in college. For many, that dream doesn't come true. Getting to play a sport in college, especially at a division one school is very rare. For senior Lauren Pederson, this dream came true.
Pederson is going to continue playing lacrosse at division one school, The University of Virginia. 
"I started playing boys lacrosse in first grade, and then switched to girls in 3rd grade, so I have been playing lacrosse since I can remember," says Pederson. Lauren goes on to say, "Lacrosse is a way of life for me. I have dreamed of playing in college since I was little."
Only 7% of highschool athletes get to continue on and play a sport in college, and only 2% go on to play division one sports in college. Pederson has overcome the low odds of being one of the few athletes to get to play a college, division one sport.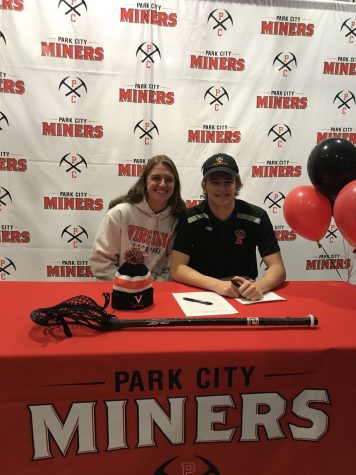 The University of Virginia has one of the top ranked women's lacrosse teams in the country and is one of the most prestigious schools in the country for academics. 
When asked what made Pederson choose The University of Virginia she said, "It just felt right. I have wanted to go there since I was little and when I visited campus I could see myself being there. I just had a really good feeling."
"Lacrosse has given me countless opportunities in life. One of them being getting to be able to go to a school that I might not have been able to get in without lacrosse. I have met so many of my close friends through lacrosse and it was helped me grow as a person by putting me in difficult situations," Pederson explained.
Women's lacrosse is one of the quickest growing sports, and one of the most competitive sports to get to play in college. Both of Lauren's brothers are playing division one lacrosse at Princeton University. Lauren is the only girl in the family, but that isn't stopping her from doing big things in lacrosse as well.
"We are part of a very competitive family, always pushing each other to do our best. Beau (Lauren's older brother) being at Princeton, and Andrew (Lauren's twin brother) going to Princeton next year, we will all be playing very competitive lacrosse throughout college. So you could definitely say we are a competitive family," Pederson explained. 
One of the most impressive things about Pederson going on to play division one lacrosse at one of the most prestigious teams in the country, is that she tore her ACL her sophomore year and has made a full recovery. 
An ACL surgery is one of the most painful, and difficult to recover from. A lot of athletes who tear their ACL this late in their athletic career, quit the sport completely because it is so hard to recover from. 
Pederson went through intensive physical therapy to recover from this injury as fast as possible because she wasn't going to let this slow her down and stop her from accomplishing her dreams.
It is hard to not feel the pressure going to play at one of the best women's lacrosse teams in the country. 
Pederson says, "I definitely get nervous sometimes and feel the pressure, but nothing makes me question my decision. I know it will be difficult and challenging but I know this is the right decision for me." 
Park City High School's lacrosse season is coming up this spring. The men's lacrosse team has won the state championships 2 years in a row. The women's lacrosse team won the state championship 4 years in a row, but unfortunately came in second place in the finals last year, but are coming back with vengeance this year.
With it being Pederson's last season of high school lacrosse, she definitely is feeling some nostalgia, but she is mostly filled with excitement. 
"I am super excited for my senior year of lacrosse. It's definitely sad only having one more season but I am really excited to be with my teammates for one last season, and hopefully making it to the state championships and winning," says Pederson. 
Pederson has overcome the odds, and will be starting the next phase of her lacrosse career at The University of Virginia this coming August and will play for the next four years of her life.