Students Expand Their Worldview Through Service Trips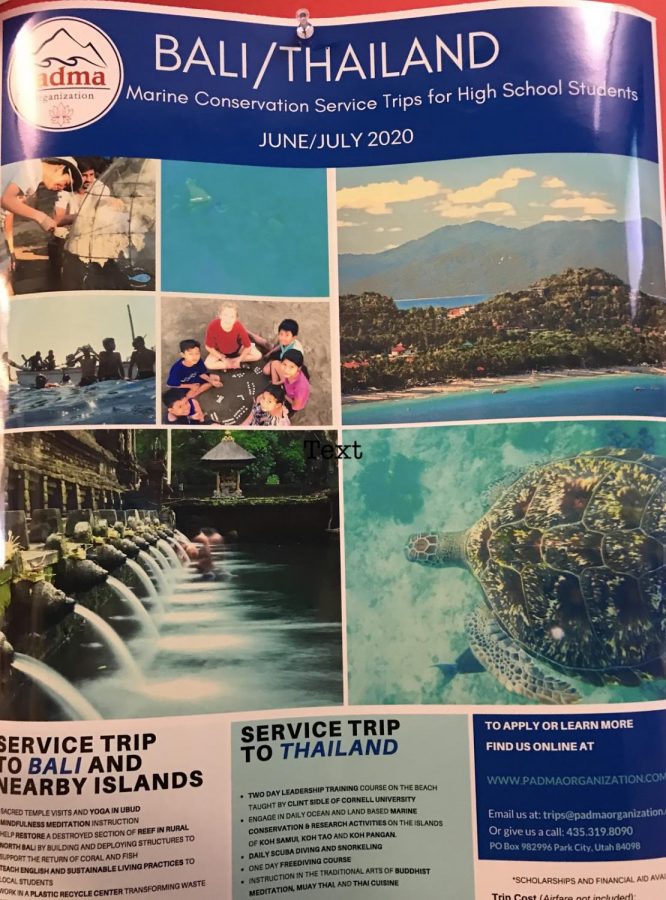 Over the summer of 2020, students of PCHS will embark on service trips to Tianyar, Bali and Koh Tao, Thailand. These trips are through the Padma Organization of Utah, which organizes and completes humanitarian and environmental projects across south and southeast Asia. 
Founded in 2001, the Padma Organization was initially focused on helping children who were being displaced in Nepal and has since grown immensely.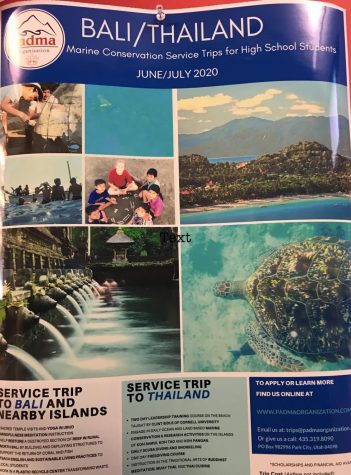 Currently, they focus on environmental projects such as restoring reefs and forests, as well as humanitarian projects such as natural disaster food and medical services, even preventing 
Human trafficking in some of the most remote and beautiful places in the world. 
For the summer of 2020, students of PCHS will have the opportunity to go to Bali for a Reef Restoration Project, or Thailand for a Marine Conservation project, and have the experience of a lifetime. 
Bali
The purpose of the 14 day Bali trip to Tianyar is to help restore a destroyed section of the coral reef off the coast of an incredibly rural fishing village on the northeast side of the island.
Students staying in huts on the beach will spend their days on the Tianyar beach building reef domes and structures that are designed to facilitate coral growth and the redevelopment of any destroyed fishing habits. 
Famously, Indonesia is known for its incredibly diverse marine life, more specifically it's the most diverse on the planet. Although, less than 10 percent of the coral reefs remain in pristine condition. 
Since Tianyar is a village oriented towards fishing, unsustainable fishing practices have been devastating the fish habitats and the fisheries of reef around the island.
They will also play with, and teach sustainable living practices and even English to local schoolchildren, as well as contributing to the research of the local manta ray population in Nusa Lembongan. 
The Marine Megafauna Foundation will be hosting an educational evening that will focus on ecological issues that are threatening the Manta Rays and sharks. 
The next day the foundation will lead a snorkel trip for the students where they will swim with Manta Rays and participate in data collection for ongoing research contributing to the Manta Ray population in Lembongan. 

While on their days off, students will have the opportunity to explore the island; waterfalls, sacred pools, scuba diver, freediver, even visiting warship wrecks from WW11. 
Junior Brayden Drury is just one of the many looking forward to the trip; "I just wanted a really good community service project for my college resume, and Bali was the perfect opportunity.". 
When asked why he chose Bali over Thailand, Brayden stated; "I read both of the trip descriptions, and Bali sounded way more fun. Not to mention how pretty Bali is, but the trip tuition was also a lot less."
Another student going on the Bali trip, Junior Ellie Mitchell can't wait; "I'm really excited because I have a lot of close friends on the trip, and Bali is such a pretty place. Because we have a three-leg flight we'll also get to go to Singapore and Tokyo, which is really cool."
Thailand
The Thailand Marine Conservation trip is also an environmentally-oriented trip, aiming to protect the precious oceans of Thailand. Historically, the Gulf of Thailand is one of the most biodiverse bodies of water on the planet.
Although in modern days due to pollution, oceans warming, unsustainable fishing practices, and increases in tourism many species will now be on the brink of extinction. 
This trip will specifically focus on protecting the remaining species, by spending time helping out with the ongoing marine ecology research with scientists and conservation divers. 
Therefore, at least one day will be dedicated to scuba diving for the researchers, preserving and restoring habitats. Each day students will learn about a specific feature of the local marine life, and perform underwater studies. 
The trip will begin on the island of Koh Samui, with a two-day leadership training seminar, by the Director of Cornell University's Park Leadership Fellows Program Clint Sidle. 
Most of this work will take place on the island of Koh Tao, but many days will also be spent traveling to and working at Koh Samui, and Koh Pangan. Every student will also go through a series of dives to train in buoyancy management, ensuring that no trip member will accidentally harm native corals when diving close to reefs. 

The on-land work will include studying and analyzing tourism industry practices and the effects it has on the islands, and sea turtle nursery activities to help nurture baby turtles before they are returned to the sea.

On days off the students will also be playing and teaching with Burmese immigrants at an international known-profit school. Throughout the trip, they will also learn traditional Thai arts and customs such as; Muay Thai, Thai Cuisine, and Buddhist meditation.
"I think it's a super cool opportunity to visit a new place and do something good. Thailand is an awesome place not only with nature but culturally as well, and I'm super excited to be exposed to a new culture and be able to help the reefs." Max O'Reilly stated another Junior that will be going on the service trip to Thailand.
Max went on to say he would much rather go to Thailand over Bali because "I chose Thailand over Bali because it's the first time that the trip is happening and I think it's exciting to be the first people to do this specific trip. I also really wanted to learn how to scuba dive."
Every student going on the service trips, whether it's Bali or Thailand, is overjoyed and gearing up for the trip and experience of a lifetime.