Valentine's Brownies Fit for Cupid
These brownies are the yummiest and cutest valentine's you'll ever see! They're the perfect "hint" for your crush or the perfect way to show your besties some love.  They're easy and quick, but everyone will think you spent hours working on them when they get a looksie. Plus who doesn't love brownies!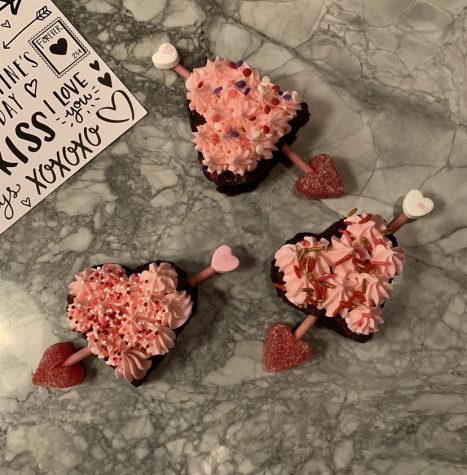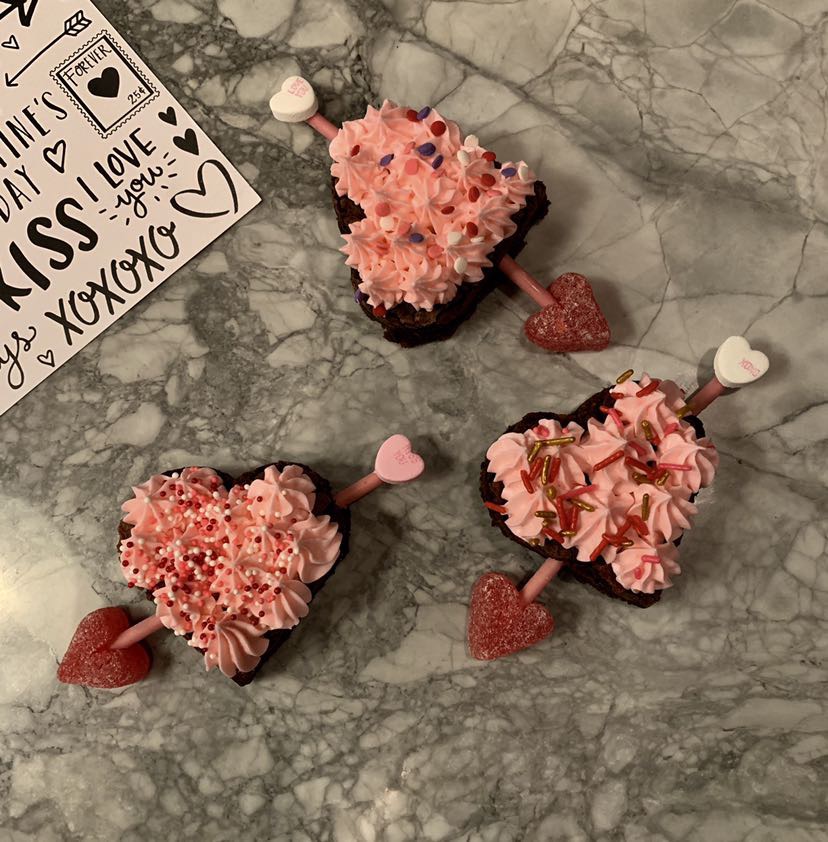 Makes 10
Brownies: 
-two boxes of brownie mix
-eggs, oil and water called for on box
-heart-shaped cookie cutter
Buttercream:
-2 sticks of salted butter (1 cup)
-2 cups powdered sugar 
-1 teaspoon milk
-1 teaspoon vanilla extract 
-piping bag and piping tip (star-shaped)
-pink/red food coloring
For cupid's hearts:
-strawberry pocky sticks
-gummy/jelly hearts
-conversation hearts
-save some buttercream for attaching hearts to pocky
-cute v-day sprinkles
Start by making brownies by following directions on the box.  I made two boxes worth and so filled two 8×8 pans. If you want to make more hearts that aren't quite as thick, use a wider pan.  

Let brownies almost completely cool before cutting them out with a heart cookie cutter.  You can save the remaining brownie pieces for an ice cream topping or make mini brownie squares.  

To make the buttercream, mix the butter, powdered sugar, vanilla and milk together with an electric mixer.  Set aside two or three spoonfuls of buttercream to use as "glue" on cupid's hearts. Using a spoon, slowly add and mix in drops of pink or red food coloring until you think you have a pretty color.  Put the buttercream in a piping bag and refrigerate for about 15 minutes unless you think it's already firm enough to pipe.  

Before piping the frosting onto the brownies, prepare cupid's hearts.  Start by breaking the pocky sticks in half. Then use saved buttercream to stick a conversation heart to one of the halves.  Then pull open a gummy heart and reseal it around the end of the other pocky. 

Line up your two halves so it looks like an arrow is shooting diagonally through the heart and stick them through.  Careful not to stick them all the way through to the middle or the brownie might break. Only stick them in far enough so they're secure. 

Once your pocky hearts are in, pipe on the buttercream.  I just piped one dollop of icing at a time and repeated until it was covered.  Add sprinkles and take some cute pics!