PCHS Students Serving Soldiers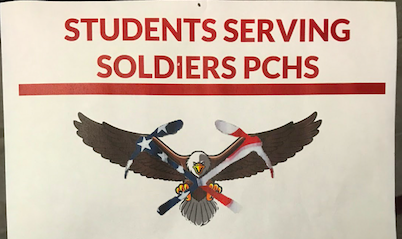 Students Serving Soldiers is a club at Park City High School that is dedicated to improving the lives of active-duty soldiers, along with veterans by working with local and national organizations. The club was co-founded by two sophomores, John Tirano and John Trahan who are looking for ways to give back to their community. 
"John and I came together to start the club because we both have a deep desire to serve the ones who have served us, and most importantly, to share and spread that desire with our community," Trahan said.
Co-leading the club, both Trahan and Tirano help plan the events, and are always looking for new service opportunities. 
Some of the service organizations the club has partnered with are; The Wounded Warrior Project, Operation Gratitude, and the National Ability Center.
The club's main goal is to improve the lives of soldiers, doing so by hosting fundraisers, club meetings with veterans and active-duty military personnel, and volunteering through veteran organizations.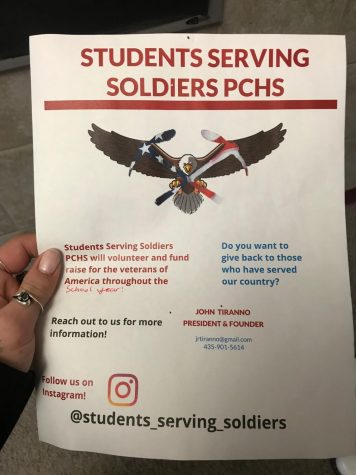 They also have future plans to work with many more service organizations that help veterans, such as team Red White and Blue, Honor Flight, Summit Community Gardens, and the VA hospitals in Utah.
Tirano and Trahan have a board of 6 members, and the club is advised by Kevin Fober, an AP US History and Government teacher at PCHS. Junior Tyler Vendetti, now a current board member of Students Serving Soldiers, was originally just looking for another club to join. 
"At first, I was just looking for another club to be in, but then I saw that we had a club dedicated to soldiers and veterans and knew I wanted to participate," Vendetti said. "I don't have any real connections to the military, but I've always admired those who put the country before themselves."  

After hearing there were a few board spots left, Vendetti thought "it would be really cool to work with them and try and help the veterans."
Now an outreach coordinator, Vendetti came up with and is currently working to dedicate a section of the Summit Community Garden towards veterans. The garden would be set up in the spring, and run all throughout summer. "It will be a really cool opportunity for students and veterans to come together and interact outside and in nature." He said.
Following the Summit Community Garden, another project the club Trahan and Tirano are working on is Operation Gratitude.
"On January 30th, we are holding Operation Gratitude. This is a care package organization drive, collecting kits for the troops. We will then send these out to troops that are currently deployed," Vendetti explained.
Another board member, Junior Mimi Luna saw the flyers around school. "[I] Passionately believe in what the club does and stands for," she stated. Wanting to make a difference, Mimi asked John to help out on the board rather than just being a general member. 
Luna helps out on the fundraising side of the club. Throughout the year, she has held three-minute donation speed rounds during the halftime of sports games. From football to basketball games, she has raised close to $1100 for the club so far. 
One of the biggest projects SSS has is the Wounded Warrior Project. The WWP is a nonprofit veterans service organization, which offers various programs, services, and events for wounded veterans. 
The WWP is going to be one of the biggest projects yet for the club and an awesome opportunity for students to fundraise for veterans who were wounded in battle.
"The WWP is a wonderful organization that helps veterans in so many ways possible. They offer a wide variety of programs, events, and services for our wounded heroes." Trahan stated. "We have a WWP fundraiser for our club, and we have a 5k goal. Please help us get there!"
Students Serving Soldiers is a club anyone can join, as it provides great opportunities for kids to meet local veterans, participate in rewarding service projects, and help make a difference in soldiers' and veterans' lives.
Vendetti goes on, "SSS is an awesome club and that I'm glad that we have such an awesome club at PCHS that gives us the opportunities to make a difference for those who sacrifice everything for us!"
Trahan welcomes anyone who would be interested in joining. "I'd love to help anyone find ways to give back to our heroes." 
If you're interested in helping out or joining, reach out to jtrahan22@pcstudents.us or jtirano22@pcstudents.us.