Australia Fires Continue to Blaze Despite Rainstorms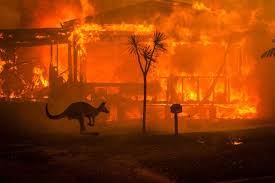 Australia normally experiences bushfires during "fire season" (which began in July) but because this year was a lot hotter and drier than usual, the fires are much more severe. Australia experienced a heatwave in December that broke the highest nationwide average temperature.  Some areas saw temperatures as high as 113 degrees fahrenheit. According to CNN, the main cause of the fires is lightning, especially lightning that wasn't accompanied by rain. 
Officials in New South Wales have also charged 24 people with deliberately starting bushfires. The fires are mainly in New South Wales but all six of the Australian states have been inhabited by fire. There are currently about 100 separate fires burning in NSW. 
As of January 13th, 28 people have died and in the state of New South Wales and 3,000 homes have been destroyed. CNN reported that more than 17.9 million acres of land have been burned. The air quality in Sydney measured 11 times the "hazardous" level. 
Ecologists at the University of Sydney estimates that one billion animals have been affected by the fires nationwide (excluding insects and frogs). They also estimate that about a third of koalas have been killed in NSW.  However, this does not mean that koalas are at risk for extinction at this point. Some species with small populations and more niche habitats are at risk of being wiped out.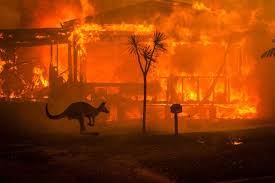 Right now, firefighters are focused on containing the fires, rather than trying to put them out directly, an impossible feat.  Instead, they are working to contain the fires by digging and introducing controlled burning to some areas.  
The week of January 20th, the Guardian reported that Australia experienced a small amount of relief due to rain and hail storms.  The weather did not put out the fires, but helped firefighters gain more control of the spreading. Areas that experienced massive amounts of rainfall were able to give their firefighters a quick break so that they will be able to continue fighting if the fires regain territory. 
While the rain is generally a good thing, it temporarily prevents firefighters from being able to bulldoze or backburn since dry ground is necessary to do so.  Firefighters in NSW and Victoria are concerned that the fires will be flaring up again in the coming week. It cannot yet be concluded that the worst of the season is over and firefighters are unable to predict when the blazes may cease. 
Thanks to CNN.com and The Guardian.com for the latest information on Australia's fires. 
https://www.cnn.com/2020/01/01/australia/australia-fires-explainer-intl-hnk-scli/index.html 
https://www.theguardian.com/australia-news/2020/jan/21/australia-fires-has-the-rain-put-out-the-bushfires-and-could-they-flare-again