PCHS's Dance Company Striding for Nationals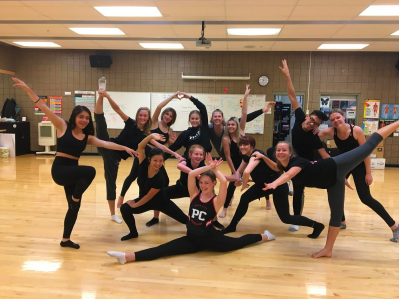 Park City High School Dance Company is working towards the National High School Dance Festival (NHSDF), in Pittsburgh PA in February. In order to raise money for the trip, Dance Company has held many fundraisers at PCHS and around the community.
Ashley Mott has been teaching at PCHS and directing the company for the past 7 years and has an diverse background in dance. 
She graduated with a BFA in modern dance from the University of Utah and later pursued dancing professionally in companies located in Albuquerque, NM, Jackson, WY, and Salt Lake City, UT.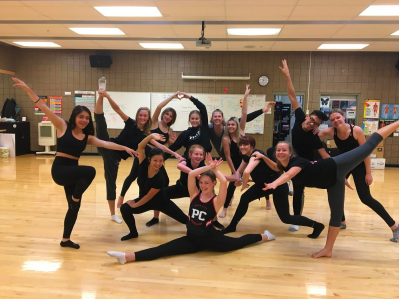 For the past 20 years, she has been teaching dance in schools, colleges, universities, and non-profit organizations. Nowadays, she is part of a national collective dance company called Bone and Fiddle Dance Collective, while still teaching at the high school. 
Mrs. Mott expressed her joy for this year's group. "This year's Dance Company is a unique, tight-knit group of students and dancers. Most of them have been dancing together in this program for five years. They have an amazing bond, great drama-free attitudes, and camaraderie, and really are the best!" 
"We are currently trying to raise enough money for our entire company to attend the National High School Dance Festival," Mott explained. "The cost is approximately $1400 per participant and we hope to have 14 students and two chaperones attending." 
The dance company has had many recent fundraisers, the most recent being selling poinsettias plants for the holidays. 
They have had many other fundraisers such as, selling opportunity drawing tickets for PCEF at a football game for their Red Apple Gala, selling pizza and treats at a StuCo movie night, and hosting a Halloween Dance Clinic for youth.
Although the latest poinsettia fundraiser has ended, they have one final fundraiser. The big push is Live PC, Give PC. The page is live now and will continue to stay open until midnight on November 8th. 
"We appreciate any support, and donations in any amount, from anyone who can help us reach our goals! We would really love for our whole company to be able to attend. There are photos, an informational video, and a place to donate," Mott said.
In past years, the company has only attended one other time, 2018. Last year, Mott took just 6 students, so this year she is very excited about the chance for the entire company to go. 
Park City Dance Co has been accepted into the festival and will be the only public school attending from Utah.
Not only is it an incredible honor to get accepted into the festival, but additionally, this would give seniors and juniors looking to pursue dance in college an incredible amount of exposure to recruiters from dozens of programs across the country. This is done through informational booths and the aforementioned auditions.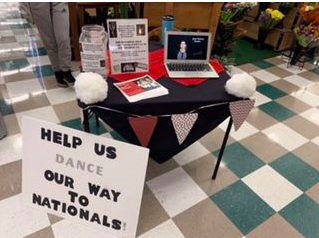 Many of the dancers in the dance company is considering minoring or even majoring in dance. 
At the festival, there will be over 40 college scouts looking, making it a lot easier for dancers looking for recruitment and scholarships as it would save them expenses for traveling to these schools. 
Since the NHSDF is such an elite festival, it has the most high-level art, and pre-professional dance high schools attending. The festival includes hundreds of masterclasses and workshops in all genres of dance, along with many performances by professional companies. 
There are also numerous scholarship auditions where students can be evaluated by dozens of schools in one audition, at one location.
Looking deeper into what nationals entail the company will attend 4 days of masterclasses with many genres of dance including; ballet, modern, tap, jazz, hip-hop, body awareness and somatics, and more. 
The dancers will also attend several performances, some by other high schools, some by professional companies. 
"Before we go, we can send in videos of up to five of our works for adjudication by a professional panel," Mott said.  "If one or more of our works are chosen from that adjudication process, the students will get to perform that dance dances in one of the concerts during the festival."
Senior Lauren Edmunds, who has been on with the dance program for the past 3 years, has been dancing since second grade. 
As a senior applying to colleges and looking into a future career in dance, nationals will give her the opportunity to audition for multiple different colleges at once. 
"I'm so excited because this is such a rare opportunity," Edmunds said. "Instead of going to a bunch of different colleges, they come from all over the country to the festival. Dancing is a very big part of who I am, and to get this opportunity is a dream come true."
As well as nationals, the company has many performances coming up throughout the course of the year. 
"Our Informance will be in the Eccles black box theatre on January 15 & 16 at 7:00 pm; our annual fund-raising 'Miner Pageant' will be on the Eccles Main Stage on Friday, March 20 at 7:00 pm, and our annual concert will be on the Eccles Main Stage on April 30 and May 1 at 7:00 pm," said Mott.
For now, Dance Company's main goal is to attend nationals, and they are still working hard to get there.