2019 Oscars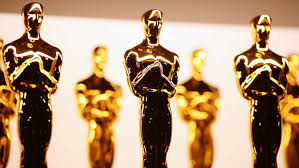 This year's nominations for The Oscars are all equally deserving of the title, each bringing their own award-winning qualities to the table. Black Panther and Blackkklansman are bringing representation for the black community. A Star is Born is an emotional movie musical bringing tears to everyone's eye, and The Favourite is bringing a perfectly comedic twist to history.
Here are some of the most popular nominees:
Best Picture: Black Panther, Blackkklansman, Bohemian Rhapsody, The Favourite, Greenbook, Roma, A Star is Born, Vice.
Best Actor: Christian Bale (Vice), Bradley Cooper (A Star is Born), Willem Dafoe (At Eternity's Gate), Rami Malek (Bohemian Rhapsody), Viggo Mortensen (Viggo Mortensen).
Best Actress: Yalitza Aparicio (Roma), Glenn Close (The Wife), Olivia Colman (The Favourite), Lady Gaga (A Star is Born), Melissa McCarthy (Can You Ever Forgive Me?).
Best Supporting Actor: Mahershala Ali (Green Book), Adam Driver (Blackkklansman), Sam Elliott (A Star is Born), Richard E. Grant (Can You Ever Forgive Me?), Sam Rockwell (Vice).
Best Supporting Actress: Amy Adams (Vice), Marina de Tavira (Roma), Regina King (If Beale Street Could Talk), Emma Stone (The Favourite), Rachel Weisz (The Favourite)
Best Animated Film: Incredibles 2, Isle of Dogs, Mirai, Wreck It Ralph 2, Spiderman: Into the Spider-verse.
The Oscars will take place on Sunday Feb. 24th 2019 at the Dolby Theatre, save the date!
There is currently no host for The Oscars and it looks like there won't be. It'll be the first time in 30 years that they will continue without an MC. Kevin Hart was originally called to host, but received major backlash for homophobic tweets that resurfaced from 2009, 2010, and 2011. Kevin Hart refused to apologize upon the Academy's request and stepped down from the position only two hours later. He didn't "want to be a distraction on a night that should be celebrated by so many amazing talented artists" says Hart. It doesn't look like they will have a main host, so who knows how the night will go. Although, it is rumoured that the Academy is trying to reunite the avengers cast for a cameo. Lets pray!
In recent years The Oscars have been supporting relevant causes and movements. In 2016, Lady Gaga performed 'Till it Happens To You, and she brought up rape and sexual assault survivors on stage. This was just the beginning of the #MeToo movement. Recently the #TimesUp movement has gained popularity, it was founded in early 2018 in response to the #MeToo movement. It's already raise over 22 million dollars for its legal defense fund, and gained over 800 volunteer lawyers. You can expect many people tying a ribbon around their wrists in solidarity, and mentioning #TimesUp in acceptance speeches.  
Overall, The Oscars will be riveting this year. Quality movies are being presented, the avengers might even reassemble, and awareness will be spread. Stay tuned!